Business continuity is crucial to ensure all vital business function is available to customers.
Basis Bay Sdn. Bhd., a Multimedia Super Corridor (MSC) status company, services this need by providing customer-oriented quality and practical IT solutions. Basis Bay is an outsourcing IT company that offers a variety of services from hardware, infrastructure and management for data centres as well as system integration and application support.
Servicing All Your Computing Needs
Basis Bay is striving towards being on par with other IT leaders such as IBM and Hewlett Packard in providing data centre services as well as system integration and application support. Their solution architects are well-trained with in-depth knowledge skills across businesses such as Finance, Healthcare, Automotive, Securities and Insurance as well as Manufacturing and Telecommunications. The company offers complete technical and application solution consultation to businesses keen on optimising their IT investment.
The company is a leader in the procurement of new as well as refurbished and pre-owned IT peripherals at maximum value, offering options to buy back or trade in unused hardware. They also offer rental options and clients can depend on a continuous support of their managed engineering and maintenance services. All services provided by Basis Bay are firmly rooted in strategising the best and financially sensible IT solutions to their clients.
The IT services provided by Basis Bay includes infrastructure for data centre services, remote infrastructure management with managed engineering and maintenance services as well as data centre building and construction, system integration and Jazz series servers. They offer consultation, planning, designing as well as construction and facility management to give their clients the best solution to their IT needs that suits their financial consideration.
Reengineering Green IT For You
"Integrity, Sustainability and Leadership" is the motto by which Basis Bay conducts their business. Their clients can rely on them to provide leading-edge IT solutions that are sustainable and delivered efficiently and in a cost effective manner. Basis Bay believes that IT efficiency must be hand-in-hand with consideration for the environment. Working on Awareness, Initiative and Management framework, Basis Bay offers green IT infrastructure that is efficiency focussed, green sourced and e-waste conscious.
Consideration for the planet is the reason why Basis Bay is a front-runner of championing IT efficiency. Basis Bay utilises a holistic approach to green IT by Smart Procurement, Extending Product Life-Cycle, Green Data Centre, IT Infrastructure Optimisation and Green IT Best Practices. This approach has won Basis Bay the Malaysian Dutch Business Council Sustainability Award in 2011.
Strategising IT Solutions for the World
Basis Bay is always on the look-out to improve its management as observed by its Business Continuity Management/Disaster Recovery certification from DRI International and ISO 9002. The company also received Project Management Professionals (PMP), Certified Data Centre Professionals (CDCP) and Information Technology Information Library (ITIL) credentials to ensure that its services are of world standard. Basis Bay's strategic thinking in branding innovation has earned the company the Brand Specialty Award for Best Brand in Brand Innovation by the Brand Laureate in 2010.
The company offers outsourcing solution to the IT needs of their clientele, regardless of their clients' location. Whether it is infrastructure or data management services, Basis Bay is fully committed to enhancing their clients' business efficiency through application management. Basis Bay is able to provide hardware and IT engineering answers to any and all customers whether in Malaysia or abroad. Whether project management augmentation or day-to-day business system administration, let Basis Bay offer you the best and greenest answers to suit your IT desires.
---
From the CEO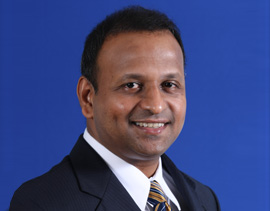 DATO' PRABA THIAGARAJAH
CEO, Basis Bay Sdn. Bhd.
Dato' Praba Thiagarajah, the CEO and founder of Basis Bay Groups, is a man of easy smiles and laser-like focus. Enterprise Asia has recognised the business acumen of the man behind the company with the Outstanding Entrepreneurship Award in 2010. He shares how he built opportunities from challenges to make Basis Bay a force to be reckoned with as a global IT solutions provider.
1 Dato' Praba has always been a self-starter. His mother shared fond memories of a driven young boy who was not afraid of hard work and believes in challenging himself, be it on an academic front or anything else in life.
2 He started out as an engineer for Hitachi and IBM. A strategic thinker, he adopted Japanese and American management style to build a company supported with world-class talents to service their clients locally and internationally. Dato' Praba encourages intrapreneurship within his organisation to support his employees' growth and to inculcate innovation from their ideas and contribution.
3 Belief in self is an important factor that drove Dato' Praba's success, giving him strength and courage to explore his entrepreneurial spirit during an economic recession. His hard work paid off when Basis Bay received global recognition as an innovative IT solution provider brand and propels Basis Bay to penetrate the international market. His most memorable achievement is the David-versus-Goliath-like success in establishing Basis Bay as a serious contender in the international market where previously only the IT giants played.
4 Dato' Praba believes that we must have the confidence to explore new territory and innovate for continuous self-improvement. Learn to exploit one's skills as knowledge and capacity building is your insurance to maintain business' sustainability in a challenging market.
5 There is no easy path to success. Hard work must be coupled with the flexibility to take advantage of opportunities available or even to create opportunities. A wise entrepreneur must be willing to look at the long-term picture rather than be satisfied with a short-term accomplishment.
6 It is important to have a meaningful life enriched with the ones you love. That is why Dato' Praba reserves his weekends for his family, making sure that his extensive travels take place almost exclusively during the week and not infringing on his quality time with his loved ones.