The sense of smell and taste is often underrated, and yet it has the greatest impact of all our senses.
Our longest and strongest memories are often evoked by the complexity of scent and flavour. Reka Nutrition Sdn. Bhd. has endeavoured to bring the best and most evocative fragrance and flavour to enhance the products and services of their clients.
The company started off as a trading entity in 1966 but has since diversified into the exciting and rarefied arena of providing flavour, fragrance, foodstuff, home and personal care formulation solutions. Nothing but the best ingredients and compounds are used in their product, with quality control checks every step of the way to ensure that the final product is of the highest standards.
Your Taste and Scent Solution Provider
Their ability to customise their product allows their clients to enjoy personalised, one-of-a-kind creations to enhance their products for any usage. Reka Nutrition took research and development very seriously to enable the food flavours, fragrances, cloudifying agents, nature essential oils, emulsifiers and basic aroma chemicals that come out of their manufacturing plant to be of the best quality and adheres to globally recognised industrial standards. Their efforts have been rewarded with the HAACP, ISO 9001:2000 as well as GMP recognition for their manufactured goods. Reka Nutritions has also sought and obtained HALAL certification to ensure that their products can be used without any doubts by clients concerned for purity of their merchandise.
Reka Nutrition is one of the few manufacturers of flavours and fragrances in Malaysia. Some of the best leading manufacturers of foodstuff, home care and personal grooming products in Malaysia and Asia are their clients. They have also penetrated the highly competitive and rigorous Australian market. With their commitment to research and development, Reka Nutrition is able to offer customised products to suit any and every clients' manufacturing need.
Only the best ingredients are sourced to formulate their products, with rigorous quality control checkpoints along the way to ensure the products for their clients are of the highest standards. The company's uncompromising view to producing HAACP and HALAL compliant goods manufactured with ISO-standard system will lead Reka Nutrition to continue their growth to be one of the best providers of flavour, fragrance, foodstuff, home and personal care formulation solutions to the world.
Sensory Delights for World Market
Reka Nutrition is committed to continue serving the best sensory enhancement solution to their clients needs. With greater investment in research and development, Reka Nutrition has built an impressive scent and taste library that has been customised for the Asian market and beyond. Their products' customisation services and stringent standards have made the products of Reka Nutrition a trusted name for clientele from all over Asia as well as Oceania.
Together with MATRADE, Reka Nutrition has taken their products to the global platform. They have showcased their products and services in various trade and industry shows worldwide, garnering accolades from various commercial sectors, from food manufacturers to household products and personal care business concerns. Reka Nutrition looks forward to the challenges of satisfying their clienteles' sensory needs.
---
From the CEO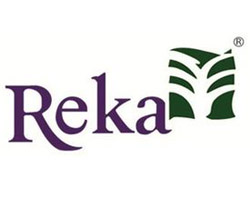 When you meet Ms. Tang, the first thing that you will notice is her infectious laughter and cute dimples. Underneath the unassuming figure is a sharp and strategic thinker who leveraged her experience as a taxation accountant in Australia to build a lucrative and highly competitive business in the exotic field of fragrance and flavour manufacturing.
1 Ms. Tang is a hands-on employer who practices the open-door policy for her staff and makes herself readily available for consultation. When she first started the flavour and fragrance manufacturing business, she had only 4 employees. Ten years later, she has 30 staffs under her supervision, responsible for various aspects of the business, from research and development to marketing and finance.
2 She has no fear of competing with the giants of fragrance and flavouring industry in Europe and the United States. Ms. Tang has guided Reka Nutrition to fill a niche area for producing scents and tastes that are unique to the Asian market, with a potential of over 4 billion consumers.
3 Ms. Tang is very passionate about delivering the best possible products to her clients. She and her staff work together with the clients to come up with the most suitable and robust solution to her clients' manufacturing need, whether it is a crunchier and tastier biscuit or a personal product that leaves a delicious fragrance.
4 Ms. Tang will not compromise when it comes to the standards and quality of the products that bear the Reka Nutrition brand name. She is always willing to work with the clients to come up with a solution that is economically sound to the client without affecting the characteristics of the products that made Reka Nutrition goods widely accepted in the international market.
5 She believes that working together and networking are among the keys to success. She considers the Government agencies as among her supporters, other than her family and employees. For example, with the assistance from MATRADE, Reka Nutrition has been given the exposure and opportunity to penetrate into the export markets beyond the region. Working with MARDI has also given an extra edge to Reka Nutrition's products for greater commercial success.
6 A mother of three teenagers, Ms. Tang devotes time for her family and children. She knows that having family and business success is never easy. Although sacrifices have to be made, Ms. Tang ensures that she is still able to spent quality time with her children away from work with at least two days a week.