Eversendai is synonym with amazing architectural structures that combine fine aesthetics with superb engineering craftsmanship.
The company has grown from a small-scale structural steel erection company to a multi-national entity that specialises in power plant and structural steel turnkey contracting. Eversendai has provided integral support, literally and figuratively in the elevation of iconic mega structures such as the Petronas Twin Towers in Malaysia, the Kuala Lumpur International Airport in Malaysia, the Burj Al-Arab in UAE, the Capital Market Authority Tower in Saudi Arabia and many more.
EMBRACE CHALLENGES TO BUILD THE IMPOSSIBLE
Heart of Steel
Eversendai is well-renowned for the production of high-quality fabricated steel structures for the construction of buildings. Its four fabrication factories located in Malaysia, Qatar and the United Arab Emirates boast over 100,000 tonnes in production annually. The fabricated steel structures are produced with stringent attention to the world's standard manufacturing practices for durability, aesthetics and project applicability.
The combination of high-end design and 3-D computer modelling packages, with the latest technology and equipments allow the company to offer a variety of customised steel structure products for complex architectures. The talents from their human resource pool are well-trained and have experience in their areas of expertise to guarantee the safety and efficacy of their products.
Eversendai's steel manufacturing prowess has earned them accolades from the Trade Leaders Club in Madrid and the Brand Laureate. MATRADE Dubai has awarded them with the recognition of the Best Malaysian Steel Contractor and Fabricator in the Middle East for their role in erecting some of the most awe-inspiring skyscrapers in the region. Clients may be assured of Eversendai's commitment to innovate the best solutions to ensure that their ideas can be translated from the drawing board into reality. All steel products with the Eversendai's stamp are fabricated with the greatest attention to the details and safety, using manufacturing system that has been rigorously tested and certified with ISO:9002 for quality and merit.
Building Your Dream
Eversendai has leveraged their experience in construction business for over 30 years to acquire expertise in providing civil engineering and construction solutions to the most challenging and complex architecture. Their in-house designing capability allows Eversendai to come up with economical design together with practical solution to shorten the construction schedule to meet the clients' requirements of cost and schedule. All their projects are executed with the highest attention to safety, during and after the project, including the guarantee of quality delivered on time.
One of Eversendai's niche expertises is in the construction of large-scale power plants within the stipulated time and cost. To date, they have successfully completed a number of coal-fired power plants capable of generating over 700 megawatts energy in a number of locations within Malaysia and abroad. Each project had the benefit of Eversendai's experienced engineers and technical managers as well as other skilled construction personnel which have built together complex architectures using in-house innovations and design development.
The company's pledge of excellence to please their clients has garnered them numerous awards within Malaysia as well as abroad. Among the recognitions are various certificates of achievement from satisfied clients as well as recognition from the Prime Minister of Malaysia, the Malaysian Institute of Directors, Ernst and Young as well as the Construction Industry Development Board.
World Class Construction Experience
Eversendai is dedicated in achieving high standards of performance by consistently providing the best engineering and construction solutions to their clients. No matter where the locations or what the challenges are, Eversendai is always eager to rise to the occasion and supply their clients with the realisation of their iconic architectural dreams. Whether it is a luxury resort inspired by the Arabian Nights or practical heavy duty power plants, to bustling transport hubs and high powered corporate headquarters, Eversendai is able to bring up the building of desire into fruition with their technical, manufacturing, engineering and construction expertise.
Eversendai has always been invited to participate in the construction of world's global architectural icons such as Capital Gate Building in Abu Dhabi, UAE and the new Doha International Airport in Qatar. As of date, they have been involved in the elevation of over one hundred landmarks in the Gulf countries, Singapore, Vietnam, India and the Philippines. Together with MATRADE, Eversendai is looking to explore new markets in India, the African continent as well as the Commonwealth Independent States, to expand their capabilities and take up new challenges.
---
From The CEO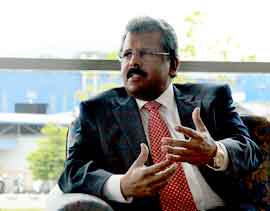 TAN SRI AK NATHAN
Executive Chairman & Group Managing Director, Eversendai Corporation Bhd.
The Executive Chairman and Group Managing Director of one of the most eminent companies in construction industry is a man of charming smiles. Tan Sri AK Nathan has built Eversendai from its humble beginnings over thirty years ago to a force that has been reckoned in the world today. He embraces a set of core values.
1 Look East Policy has helped to shape Tan Sri Nathan's attitude in the construction business - there is no compromise when it comes to safety and quality.
2 A person must be held to his commitments. This belief has driven Tan Sri Nathan to ensure that Eversendai will always complete its projects before the deadline without marginalising the safety of his people or compromising the quality of the project outcome.
3 His staffs are his people, making them as important as his clients. Developing and nurturing his employees have helped to strengthen Eversendai to keep striving and achieving greater heights.
4 Tan Sri Nathan's advice to aspiring entrepreneurs in the construction field:
• Cultivate burning desire to succeed and develop the inner strength to persevere through challenges.
• Strategising opportunities and leveraging on your skills cannot be taught, but can be learned in the school of life.
• Nothing beats self discipline. Let challenges inspire you to excel.