Starting from a mother-child goods trading company in 1984, Consobiz has now spread its wings to the production of quality diapers for the mass market.
The family-oriented company began to manufacture diapers in 1997, focusing on producing quality diapers for the economical market. From production for Malaysia's consumption, Consobiz diapers can now be found worldwide, giving parents the option of reasonably priced disposable diapers of good quality.
Consobiz Ventures began with their factory in Klang, Malaysia for the production of OEM diapers that are retailed under other manufacturing labels e.g. Pigeon, Pureen, Tesco Value, and DryFirst. They have since expanded to acquire another plant in Johor, Malaysia and have also set up a manufacturing plant in Tanggerang near Jakarta, Indonesia. The Malaysian plant has three (3) manufacturing lines while their factory in Indonesia has two (2) diaper lines and one sanitary pad line. The finished products are packed as OEM production (e.g. 1Malaysia) as well as under the company's own brands i.e. Lolla's, CumfyDry, and Nappiez.
"THERE ARE NO FAILURES, JUST LESSONS LEARNT"
Quality Comfort at the Right Price
Due to the combined size of the their two plants in Malaysia and Indonesia, Consobiz enjoys competitive raw material prices due to economies of scale – a benefit that they passed on to their consumers.
The company has recently been awarded ISO 9001:2008 certification for quality management. All their products are manufactured with strict attention to hygiene and packed with the greatest care to ensure that babies enjoy diapers that are safe and comfortable.
As their market has expanded beyond Malaysian shores to ASEAN countries, India, the Pacific Islands, Africa and Europe, Consobiz Ventures is working towards establishing more of their manufacturing presence abroad to accommodate greater demands for their products. Consobiz Ventures is always ready to explore new markets and share with the world good quality diapers at a reasonable price.
---
From the CEO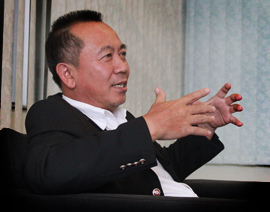 MR. JOHARI MAAROF
Managing Director, Consobiz Venture Sdn. Bhd
The Managing Director of Consobiz Ventures is an ardent believer of exploiting opportunities available to its fullest extent. Mr Johari Maarof shares some of his working philosophy.
1 Business is like riding a bicycle. You cannot stop cycling or you will fall off the bike.
2 Perseverance and knowledge are keys to reducing shortcomings and to triumph over resource limitation.
3 No matter how daunting the challenge, be it competition or raw material sourcing, Mr Johari keeps a positive mindset about dealing with issues threatening his company.
4 Everyone has a role in giving back to the society. Sharing his company's products to ease the burden of those in need is a source of great joy and satisfaction to Mr Johari.
5 Working hard is pointless if you don't work smart.