Les' Copaque is an animation pioneer in Malaysia and a film production company that was established in 2005 to bring Malaysian stories to the world.
A Multimedia Super Corridor (MSC) status company, Les' Copaque has been producing high quality 3D animation for television serials as well as advertising and public service messages. Their first feature film, Geng: Pengembaraan Bermula in 2009 has been awarded with the best animation film by the Kuala Lumpur International Film Festival 2007. Other accolades received include Viewer's Choice Award from the International Film Festival for Children, Indonesia 2009 and Best On-Screen Chemistry Award (Shout! Awards 2009).
It's All about the Stories
Les' Copaque believes that good story-telling is the core of their business. Launching off with 5-minute shorts screened during Ramadan 2007, Les' Copaque's iconic Upin & Ipin is now a regular television series screened over 17 countries. It was the first fully produced Malaysian animated series that was picked up by the Disney Channel Asia and Televisi Pendidikan Indonesia (TPI). Upin & Ipin is aired in both Bahasa Malaysia and English, garnering devoted fans from all over the continent and beyond. Their YouTube presence has made Upin & Ipin available globally to fans in Uzbekistan and Europe.
The enthusiastic reception of Upin & Ipin the animated series paved the way for the animation blockbuster, Geng: Pengembaraan Bermula (Geng: The Adventure Begins). This animated film presented a watershed in Malaysian cinemas as the first locally produced animated film to hit the box office. The film was also screened in Indonesia to an overwhelming reception.
The company has also launched a new animated series inspired by the folktales of Malaysia. The Pada Zaman Dahulu (Once Upon a Time) imprint is the first Malaysian 3D animated series to feature 2D animation techniques, narrating the adventures of two city kids, Ara and Aris, as they explore life in the village with their grandparents along with stories of the irrepressible Sang Kancil (The Mouse Deer) from Malay folklore. Pada Zaman Dahulu made its television debut on December 2011 on TV Al-Hijrah, Astro Ceria and MNC TV Indonesia.
Building a World Class National Brand
From short clips to full-length feature films, Les' Copaque has been expanding their reach beyond animation. The company has since diversified into merchandising, working with their partners to produce licensed goods bearing the imprint of Upin & Ipin. These range from stationeries, comics, toys, DVDs, books, gift ideas, household goods and tumblers to chocolate and candies.
Les' Copaque has also brought the Upin & Ipin brand into the food and beverage arena with the opening of Geng's Corner. The flagship restaurant established in Malaysia, in Shah Alam and the newly opened branch in Taman Melati serve local and Western-inspired dishes in a family oriented environment with signature dishes such as Nasi Ayam Upin & Ipin (Upin & Ipin Chicken Rice) and 'Gulai Kawah Opah' (Grandma's Pot Gravy Dish). It also caters for birthday parties, corporate events and other family functions. Fans can also opt to enjoy the Upin & Ipin Fan Club events such as 'Malam Bersama Geng' (A Night with the Gang) and other themed occasions.
Les' Copaque is not resting on their laurels. For this reason, the company is in negotiations to set up an Upin & Ipin Theme Park in Sepang, in the State of Selangor, Malaysia. It is expected to make its mark in 3 years time, featuring park rides and other attractions centred on the Upin and Ipin brand. Les' Copaque is opened to exploring business opportunities with international partners who are interested in new avenues with an established brand with market presence of over 300 million consumers.
---
From the CEO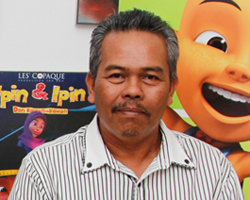 HJ. BURHANUDDIN MD RADZI
Founder, Managing Director and Producer, Les' Copaque Production Sdn. Bhd.
Hj Burhanuddin Md Radzi wears many hats with Les' Copaque: he is the Founder, Managing Director and Producer. A daring entrepreneur, he took a massive calculated risk when he ventured into the animation business with his wife, Hjh Ainon Ariff and Les' Copaque's Creative Director, Usamah Zaid bin Yasin. The genial businessman shares how he sees the animation industry in the country expanding its potential beyond the borders.
1 Animated series is not enough to be the entire sum of the business. This is why Les' Copaque has diversified to venture into merchandising, theme park, and restaurants based on their most popular imprint, Upin & Ipin.
2 Although Les' Copaque has expanded their business into other arenas built around Upin & Ipin, there is no success without the brand. This is why Hj Burhanuddin stresses on the importance of telling good stories with positive values to enforce the appeal of Upin & Ipin.
3 Hj Burhanuddin is not afraid of competition in the animation industry. He is more focussed on sustaining the momentum of delivering high quality content that speaks to children and maintaining the appealing Upin & Ipin brand.
4 His management style is about getting the right person for the job and empowering them to do the job well. Trust is paramount when dealing with his staff and he grants them the autonomy to get the job done quickly and well.