Amerseal Industrial is a leading manufacturer for a wide range of industrial and household adhesives, premium grade silicone and sealants, cleaning products, oil & fuel treatment products, lubricants for both industrial and automotive usage.
All the products are marketed under the brand name HARDEX® (www.hardexworld.com), through various sectors such, automotive repair & maintenance, construction, hardware, furniture and many others light and heavy industrial.
HARDEX® brand distribution network is spread over the globe into more than 50 countries worldwide, across South East Asia, Asia, India, African Continent, Middle East, Canada, USA, Central and South America.
The company's manufacturing plants in Bandar Indera Mahkota and Gambang, Pahang in Malaysia are equipped with the latest state-of-the-art technology and new generation production facilities. The chemical engineers and designers worked closely with the customer in an effort to continuously refine and optimize product packaging, quality and standards to enhance their competitiveness in an ever changing market environment.
All Amerseal Industrial products are manufactured under stringent standard operating procedures, in line with good manufacturing practices and subject to rigorous monitoring for quality control. Customers can be assured that all products meet international standards and are capable of withstanding all mechanical demand required.
Building & Developing A Local Name Into A Global Brand
Amerseal Industrial is proud of their achievement and accomplishment of being a local Malaysian name that has made its presence globally. The company continued to innovate and improve upon on its products and distribution network to further strengthen the brand name. Working together closely with MATRADE, Amerseal Industrial aims to grow and expand their market bring forward a Malaysian brand name internationally.
---
From The CEO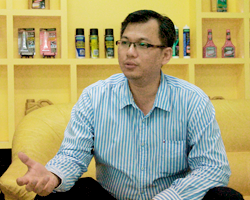 MR. LAU KENG CHONG
CEO, Amersal Industries Sdn. Bhd
Mr. Lau Keng Chong, as Amerseal's Chief Executive Officer, Managing Director and Sales Director, plays a very vital role in setting clear directions for the company to move forward in establishing a Malaysian brand name globally. As one of the Co-Founder of the company, he has worked and dedicated a lot of his time to build Amerseal Industrial's reputation as a leading manufacturer of chemical products to meets the needs and demand of the automotive, and manufacturing industry in the past decade. He derives great satisfaction from seeing Amerseal Industrial products on shelves and in use globally.
1 Mr. Lau truly enjoys his job and takes it as a hobby, which motivates him to excel and succeed in build his business. Mr. Lau also emphasized that, he supported by a team of partners & employees with strong team spirits, energetic & enthusiasm as work & fight together with him to achieve company's vision.
2 He commented that we should not stress ourselves unnecessarily when encounter with problems and issues. Just accept them positively and try to resolve it. We have to always look problems and issues as opportunity and not as an obstacle. "Failure is the Roots to Success"
3 The lack of a strong academic background is never a barrier to achieving professional success in business. One can learn a lot in life, as long as you open your ears and eyes all the time, in order to learn from others.
4 Never underestimate any potential markets or new business partners. You will never know the opportunities that await you, until you have penetrated the market and make the best of the available breaks.