RNZ Integrated was established in 1994 to fulfil the needs of the burgeoning oil and gas (O&G) industry in Malaysia. The company is one of six companies licensed for major off-shore engineering projects by Petroliam Nasional Malaysia (PETRONAS). It utilises its management team's over 20 years of experience in providing engineering and project management solutions to the O&G and petrochemical businesses throughout the world.
Being part of the third largest O&G partnership consultant globally, RNZ Integrated is steadfast to continue to provide the best engineering and business solutions to their O&G and petrochemical clients without compromising on safety or preservation of the environment. The company aims to widen their global presence while upholding the positive local values and ethics.
They have over 650 experienced staffs which have been trained in various specialisations in the industry. Their project management services utilise the latest technology to optimise the operational efficiency and project delivery. Other than that, the material management and design systems offered by RNZ Integrated are compliant with the ISO:9001 certification since 2004.
RNZ Integrated has received various accolades from the Ministry of International Trade and Industry (MITI) of Malaysia as well as the SMECorp Malaysia for Industry Excellence in recognition of their exceptional success in project delivery.
Serving O&G Engineering Needs of Malaysia and the World
RNZ Integrated's Headquarters in Kuala Lumpur, Malaysia coordinates all the services provided by the company, while their design office in Miri, Sarawak, Malaysia is responsible for producing and integrating the design. Their branch located in Jakarta acts as the marketing arm for RNZ Integrated's presence in Indonesia.
RNZ Integrated has entered into a partnership with Petrofac in United Kingdom since early 2012 to expand their operation in the international markets that were previously championed by European companies. Their enthusiasm for excellence and the smart partnership with Petrofac have cemented RNZ Integrated's reputation for successful implementation of various projects in Malaysia, Sudan, India, Vietnam, Turkmenistan, Iran and Qatar.
RNZ Integrated has also formed a joint venture with Cardia Bioplastics to develop and to promote sustainable resins and finished products derived from renewable resources for the global packaging and plastic products industries. The collaboration is expected to leverage on Cardia Bioplastics' strong patent portfolio and RNZ Integrated's experience in the O&G industry to keep up with the demands of the global trend towards sustainable packaging.
---
From the CEO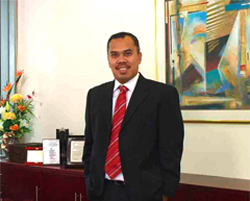 IR. ROZALI AHMAD
CEO, RNZ Intergrated Sdn. Bhd.
The CEO and Managing Director of RNZ Integrated, Ir Rozali, has had over twenty years of experience working in the oil and gas (O&G) industry. He believes in balancing between humility and pride in one's abilities and achievement. His skilful management driving the success of RNZ Integrated has earned him recognition as the Outstanding Entrepreneur in the Asia Pacific Entrepreneurship Award 2007.
1 Ir Rozali has worked with both local and international players of the industry since his graduation from Universiti Teknologi Malaysia (UTM) in 1989 and has leveraged this experience to establish RNZ Integrated to be part of the 3rd largest O&G partnership consultant in the world.
2 When exploring new markets in other countries, one must learn to adapt to the culture and business style of their local partners. Always willing to learn to work together and build a good reputation for service delivery and cooperation; to obtain the project success.
3 A good reputation is an important asset in developing an organisation to be a major player in the industry other than the personal touch that goes along the way. Ir Rozali travels extensively to visit existing and potential clients to nurture the relationships, encouraging confidence of their clients in the services provided by RNZ Integrated.
4 Experienced workforce is one of the most vital criteria for an engineering services company. To overcome this shortcoming, RNZ Integrated initiated an engineering graduates programme to train fresh engineering graduates, building their skills and knowledge base with a five years training bond. Ir Rozali acknowledges that the superior training given by RNZ Integrated has made the alumni developed into valuable talents for the company.
5 Limited resources and working capital necessitates creative innovations in order to fulfil the project requirements before the dateline. Resilience and flexibility are also important to handle issues in the challenging global markets.
6 Ir Rozali feels that leveraging the latest technology is an important strategy for business survival.