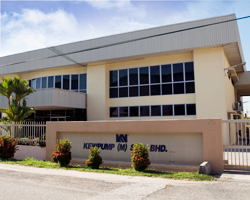 Company :
KEWPUMP (M) SDN BHD
Sector :
MACHINERY
Contact :
2, Perushaan Kledang Utara 1/3,
Kawasan Perindustrian Chandan Raya,
Menglembu,
31450 Ipoh,
Perak, Malaysia.
Tel : + 605-282 7468
Fax : + 605-282 1613
E-mail : This email address is being protected from spambots. You need JavaScript enabled to view it.
Website :www.kewpump.com.my
---
Gallery
Starting out as a small family business almost 2 decades ago, Kewpump (M) Sdn. Bhd has since moved on to become one of the leading pump manufacturers in South East Asia
The company has emerged from its earlier business of the tin mining in Malaysia back in 1988 to the designing of centrifugal palm oil pumps which has led Kewpump to be considered as a preferred brand for high quality and durable pumps in the edible oil industry.
The Reliable Pumping Solutions
Based in Ipoh, Perak, Malaysia, Kewpump has 3 manufacturing facilities around the city. The facilities enable them to perform full-scope manufacturing from designing parts, casting, machining, assembly and testing of their products. Kewpump pumps are manufactured using cutting edge technologies and are performed under strict quality control procedures that are ISO9001:2000 certified. As a result Kewpump pumping solutions are well known for its reliability and excellent value.
The company has continued to grow consistently year after year, and so does its pool of ever growing dedicated employees. Offering brilliant career paths, the company has managed to attract many talented individuals into its growing workforce family. With strong traditional values of innovation, service, quality and integrity as well as an army of dedicated employees; Kewpump has not only become one of the leading pump manufacturers in the region but has been honoured to receive various awards for its products and market achievements.
Manufacturing Pump for the Industries
The company's team is also embarking on a partnership with University of Technology Malaysia, a premier engineering institute of higher learning in the country, to come up with new and unique technology improvement for the company's pumps. Its full-fledged manufacturing facilities encompass everything needed for parts design, casting, machining, testing and assembly.
From pumps for the palm and edible oil industry, Kewpump has diversified into making pumps for other industries as well. The company's clients include manufactories for paint, industrial polymers and acids as well as petroleum processing and their pumps have also been used in pulp and paper processing as well as sugar mills, latex treatment, electronics factory and also food manufacturers.
Its vision of providing quality and innovative pumping solutions to meet client's needs is the main reason behind Kewpump's products which are widely used by various industries in over 11 countries.
---
From the CEO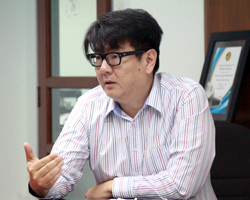 MR. THOMAS CHAI
CEO, Kewpump (M) Sdn. Bhd.
The Chief Executive Officer of Kewpump (M) Sdn. Bhd. is an enthusiastic diver and enjoys athletic pursuits during his spare time. Mr Thomas Chai speaks about growing a family business into a well-renowned pump manufacturer in the region.
1 Experience obtained in handling customers' needs and preferences are crucial in developing the best ways necessary to improve and move forward. Mr Chai's philosophy is that persistency and hard work will increase the odds needed to succeed. In order to achieve success, a combination of effort and know-how needs to be applied to any business.
2 Collaboration throughout the company is extremely important and he considers the company employees an important asset to ensure the continued success of the company's business.
3 Respecting the culture of any country the company is entering is very important, especially when it relates to selling a product. Thus, proper partnerships need to be built carefully.
4 As such, Mr Chai has spent much of his time in human resource development and training to enable his staff to acquire more skillsets for higher productivity.