LKL Advance Metaltech Sdn. Bhd. is a Malaysian leading medical furniture manufacturer, providing solutions for the healthcare industry.
The company specializes in a broad spectrum of products, namely hospital beds, patient transport trolleys, birth care tables, medical treatment carts, peripheral support equipment and the fabrication of steel/wooden products.
Assuring Safe and Comfortable Healthcare
Its product offerings have been widely recognised for their outstanding quality complemented by reliable after sales service and have successfully earned the trust and confidence of healthcare providers nationwide. Its continuous improvement philosophy which is 'putting customers as its priority' has allowed them to set numerous industry benchmarks in terms of quality, efficiency and customer satisfaction.
Also part of the company's product is the fabrication of hospital furniture made to be safe and comfortably manufactured from fine materials to ensure service and durability for use in areas such as the wards, operation theatres, medical offices, neonatal care centres, clinical laboratories as well as geriatric, home care and other special care centres.
Understanding Clients is the Key
As the landscape on healthcare products turns to be more competitive, identifying future customers are important especially when it means understanding the needs of clients who are looking to have their equipment and health services furniture fabricated to custom specifications. Working closely with clients is a prerequisite even if it means to continuously update and upgrade their products to ensure that their clients are best equipped to deliver high quality healthcare services to its customers.
Its manufacturing processes conforms to strict German certification board guidelines and this propelled them to be one of the first in the local industry to be awarded the ISO 9001:2000 & ISO 13485:2003 certification by the world renown German body, TUV. These two awards received are a testament to the company's tireless pursuit of quality and makes them proud to be among the ranks of internationally acclaimed manufacturer recognized for their superior quality systems.
The company has also received compliments as a dynamic employer and distinguished small medium enterprise as well as the Golden Bull Award and the Malaysia Independence Award. Its healthcare products can now be found in hospitals and health centres in over 41 countries, spanning across Asia, Western Europe, Africa and Oceania as well as the Americas.
Clients can be assured that they will not only receive products that have been produced for durability and performance, but also be guaranteed on excellent after sales service, without any preference to location.
---
From the CEO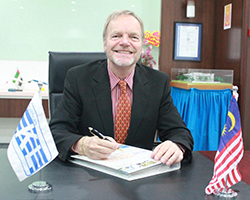 MAJOR (RTD.) STUART VEAZEY
CEO, LKL Advance Metaltech Sdn. Bhd.
Major (Rtd.) Stuart Veazey is a man of strong convictions and of great charm. The former British military man has always been passionate on providing the peerless customer service and keeping up with healthcare trends and conceptualisations to continue offering only the best to the clients of LKL Advance Metaltech.
1 The Major (Rtd.)'s first posting was in Kluang, Johor, back when he was just 17 years-old. The warmness and hospitality of Malaysians and the warm climate made it easy for him to accept Malaysia as his second home for the last 13 years.
2 Making the change from a buyer to a seller when he joined LKL Advance Metaltech as the CEO required a shift in his attitude that was made easy by virtue of his enthusiasm of the quality products offered by the company. Major (Rtd.) Veazey is very proud of the superiority of the LKL brand that is synonymous with lasting durability and distinctive customer service.
3 Relationship and network building has always been an important key in him winning over new customers and this has forged many strong relationships with its current clients.
4 He predicts the company's growth of up to 100%, or probably even further within the next three years and attributes this to the committed partnership it currently has with MATRADE.