Over the years, Malaysia's electronics industry has developed significant capabilities and skills
for the manufacture of a wide range of semiconductor devices, high-end consumer electronic and information and communication technology (ICT) products. Electronics manufacturers in the country have continued to move-up the value chain to produce higher value-added products.
One example of a successful company in this industry is JF Technology Berhad, which was incorporated on 29 April 1999, with the primary aim of servicing the manufacturing industry and also to handle trading of electronic products and components. It started off with its maiden product which was the Single Pin Cantilever Test Probe, and further continued into becoming an independent OEM manufacturer.
Headquartered in Selangor, Malaysia, their integrated facility has a total land area of 92,000 sq.ft and currently occupies approximately 46,000 sq.ft of manufacturing factory with 4,000 sq.ft of Research & Development (R&D) facilities located at Kota Damansara, Selangor, Malaysia
Efficient After-sales Service and Response Time
With huge integrated manufacturing facilities and geographical advantage of proximity to some of the world's major semiconductor and test handler manufacturers, this allows for faster response time and more timely after-sales service. The next stage of growth would be for the company to sustain and grow its business through the proliferation of new products via research and development (R&D) activities. These activities will create a competitive advantage for the group through value-added services and expansion JF Technology's product line.
This would also be an important reason for the company to spend a great deal of investment on developing In-House Research and Development Activities with an annual target of 3 patents to ensure that their semiconductor products maintain its high quality.
The company has also realised that it consumes a substantial amount of energy, resources and various chemicals as well as generation of waste in the course of R&D, engineering, manufacturing and support jobs of test contactors products which have a great impact on the Environment, Safety and Health policies. Therefore, the company has always applied certain policies for reducing the environmental, safety and health impact.
These would include the conservation of natural resources by reusing and recycling materials, purchasing recycled materials, and using recyclable packaging and other materials. Other measures would also include development, manufacturing, and marketing of products that are environment friendly which could be later reused, recycled or disposed of safely.
Safety Comes First
Caring for their staff and the environment is also a major concern for JF Technology, leading them to adopt green practices to reduce their environmental impact and enforce the best policies to improve all health and safety after-effects on their employees.
Their persistence and hard work resulted with their successful listing on the Malaysia Stock Exchange (MESDAQ) Malaysia in April 2008, and also recently being the recipient of the 'AAA' 1-InnoCERT Award 2012 for Innovation Certification for Enterprise Rating and Transformation which is a certification programme used to recognise and certify innovative enterprises & SMEs and to encourage entrepreneurs to venture into high technology and innovation-driven industries.
---
From the CEO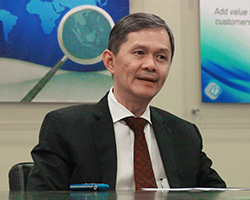 MR. FOONG WEI KUONG
CEO, JF Technology Berhad
The CEO of Malaysia's top semiconductor manufacturer is a man passionate about the industry and has great pride about the potential of the country. Mr Foong Wei Kuong shares his management and entrepreneurial philosophy.
1 Mr Foong believes that Malaysia possesses the necessary skill sets to become a centralised industrial hub for semiconductors. He expressed his confidence especially on the engineering graduates produced by Malaysian universities, crediting them as the innovation drivers for his company.
2 He is passionate about differentiating the company from other competitors in order to provide a different customer experience. This would be the main reason the company's sales and marketing team works in tandem with the engineering, quality assurance and manufacturing team to brainstorm and improvise ways to address their customers' needs.
3 Mr Foong is a believer of rising to the occasion even during the economic crisis that has threatened the industry, and this was taken as a challenge by him to move up the value chain, moving JF Technology from an OEM manufacturer to the next level and becoming an ODM producer.
4 He believes that his success has always been attributed from the hard work and commitment of his workforce. Mr Foong adopts Jack Welch's principle of energising their people to execute the best practices to produce the best for the company.
5 Nothing will beat hard work, patience and persistence as the pathway to success, all this qualities are credited in his philosophy to enable him and his staff to think outside the box in order to exceed the customers' expectation.