As the population of the world continues to increase, naturally there would be an increasing demand to automobiles and this pushes up the requirement for advanced braking systems. New and strict regulations are always drafted to ensure that maximum safety is met and this would lead to advancement of new technologies.
To keep up with this increasing demand, local manufacturer Auto Friction Manufacturing, the manufacturer of AFI Brakes products, started off with the production of disc brake pads and shoes for the automotive industry, with its headquarters located in the Malaysia's East Coast state of Terengganu.
To date, their products are produced according to stringent ISO 9001 management system to guarantee its clients the best quality on high performance driving and also offers design formulation to suit its client's requirements. Their integrated manufacturing plant also allows them to perform customization and could be tailor made according to demands; due to its designing technology and machine capability, all located in one central location.
Environmental Friendly Brake Pads
The company recently launched a range of disc brake pads and shoes made from environmentally friendly bio-soluble fibre. This new range of product has received the approval of American Society of Automotive Equipment as well as the Japanese Industrial Standards as these products were made completely free from asbestos, a common component in brake pads which is dangerous to health and the environment.
Their braking solution is produced for a variety of leading automotive manufacturers from Europe which includes Mercedes Benz, Volvo, BMW, Volkswagen, Citroen, Renault, Peugeot, Audi just to name a few. The company began their operation in 1995 to serve Japanese car manufacturers such as Toyota, Nissan, Mitsubishi, Honda, Mazda and others before branching into local manufacturers such as Proton, Perodua, Naza and Inokom in Malaysia. They also service Chery of China as well as Daewoo, Hyundai, Kia and SsangYong from Korea.
In recognition of their outstanding work quality, the company has been recently awarded the title Asia Pacific Super Excellent Brand Awards from the Asia Entrepreneur Alliance Worldwide and this was followed by the Golden Bull and subsequently Enterprise 50 Award. With this recognition, its objective now is focused to maintain quality output and to spread out its wings by tapping into the huge potential of the export market.
---
From the CEO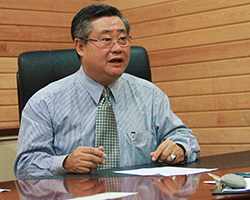 MR. CHONG FAH MING
CEO, Auto Friction Manufacturing Sdn. Bhd.
Mr Chong Fah Ming came from a humble beginning to start building an automotive brake manufacturing company which has always been guided by his Triple H philosophy: Honour, Honesty and Hard Work. The outgoing and friendly entrepreneur shares some of his experiences in the manufacturing business and his personal take on the right attitude to succeed.
1 Mr Chong started his education in a small Chinese School in Pahang, where he learnt to speak the Malay language by living in a 'kampung' and only learnt English after the age of 40 years. Mr Chong continues to attend training seminars and university classes to keep in touch with the developments in the industry and to sharpen his business acumen skills and has made learning a major part of his daily life.
2 One of his proudest moments was when he was awarded the 'Tokoh Usahawan Terengganu' Award, in recognition of all the entrepreneurial endeavours that he had set up in the state of Terengganu, Malaysia.
3 Mr Chong quoted that in order to be successful; he has endured many sacrifices along the way. As he is nearing the age of 60, he plans to eventually transfer his responsibility and know-how on running the company to his children which he has taken the time to train immensely.
4 He believes that decision making especially on the most important issues would best be made when the mind is fresh. Mistakes should always be analysed and resolutions needs to be put in place to avoid future pitfalls.
5 Finally, his advice to all entrepreneurs who are planning to venture into the brake solutions industry is to be resilient and learn from those who are more experienced. It is not an industry for the faint hearted as the first five years are usually loss making. However persistence, hard work and careful planning will always ensure that the persistence will eventually turn around into profit making for any business.