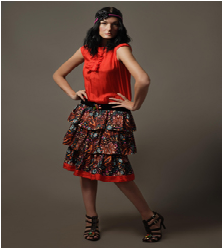 While other players shy away from manufacturing garments, Elit Purnama took the bold step venturing into women and children's apparel. As part of its expansion plan, the company applied for and was accepted under the WEDP in 2007. With the local market being too small for any significant expansion, Elit Purnama had its sight on the international market and embarked in a three-year programme to create a global brand. Through MATRADE, today Elit Purnama has made inroads in countries as far as Mexico, Spain and Australia, riding on the rising trend of niche and medium up-market.
In those three years, export missions kept Elit Purnama busy with participations in the Salon Internacional de Moda de Madrid (Spain), Fashion Exposed Melbourne (Australia), Who's Next (France), Pure London (UK), Motexha Spring 2009 (UAE) and Bangkok International Fashion Fair (Thailand). Other than that, the company also went on self-initiated business missions to Dubai and Tehran.
The efforts soon paid off handsomely with export sales reaching RM1.2 million, contributing 20% of its total sales in 2009. Today, it aims to expand exports to contribute 50% of its total sales. Elit Purnama's active effort to bring Malaysian garments to the world is an example of how a local company can create a globally renowned brand.
Collections / Products
Events
Contact Details
Elit Purnama Sdn Bhd
C-1-2, Brunsfield City View,
Jalan 3/93A, Off Jalan Cheras
56100 Kuala Lumpur
T: +603-9200 9361 / 9360
F: +603-9200 5773
W: www.jetaime.com.my