Proreka (M) Sdn Bhd, Malaysia's tier-1 vendor and manufacturer of automotive parts and components, has gained wide recognition in providing conceptual designs to improve the aesthetics of automotive and non-automotive products.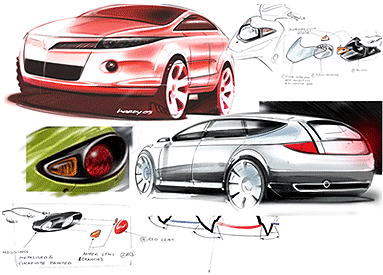 Established in year 2000, the company currently operates three factories in Selangor, one in Puchong and the other two in Sungai Buloh.
Proreka was one of nine Malaysian companies which participated in the Automotive Engineering Exposition 2010 (AEE 2010), spearheaded by the Japan External Trade Organisation (JETRO) and the Malaysia External Trade Development Corporation (MATRADE).
Executive Director, Thomas Lim, said this was the second round Proreka participated in the project. The first one was in 2008.
AEE 2010 is the second trade fair programme initiated under the Malaysia-Japan Economic Partnership Agreement (MJEPA) in July 2006. The first trade fair was the International Auto Aftermarket Expo (IAAE) which Malaysia has participated for the past three years. The five-year project is aimed to develop and improve Malaysia's automotive industry to become a more competitive global player.
"We are satisfied with the choice of trade fair this time because it provided a platform to position our company amongst the Original Equipment Manufacturer (OEM) industry", Lim said.In preparing for the Japanese market, Proreka has established technical collaboration with two Japanese partners, Taica Corp and Tech Art Co, to meet global quality standards for auto parts and body kits. Proreka also has technical partners from Taiwan and South Korea.
Japanese market, across its industries, is adamant on quality and timeliness. Hence, business success in Japan requires a strong understanding of Japanese business and culture. Patience and perseverance is also required to clinch business deals with the Japanese business community."We see opportunities for collaboration with potential Japanese partners who can provide us with more advanced technology at the AEE 2010 in Yokohama. We are also able to provide Japanese companies a gateway into Malaysia and the Asean market," he added.

Proreka hopes to export directly to Japan in two to three years.
"However, if this does not materialise for Japan, we will shift our focus to ASEAN and Middle East. We see opportunities in Middle East when we participated in the Malaysia Services Exhibition (MSE), Dubai. This was also with MATRADE's support. We are also positive into entering European and US markets within five years," he said.
Contact details
Proreka (M) Sdn Bhd
No. 17, Jalan Industri PBP 3,
Taman Industri Pusat Bandar Puchong,
47100 Puchong, Selangor Darul Ehsan,
Malaysia.
T: +603-5882 2661
F: +603-5882 2660
E: This email address is being protected from spambots. You need JavaScript enabled to view it.
W: www.proreka.com