Asturi Metal Builders (M) Sdn Bhd began its operation in June 1996 and its core business is the fabrication of process equipments such as Pressure Vessels, Heat Exchangers, Process Skids, Tanks and Flare Stacks which are used in the Oil & Gas and Energy industries. Asturi has successfully fabricated more than 1,000 units of these equipments for the local and international markets.
Asturi operates from its plant at the Gebeng Industrial Estate, Pahang, Malaysia. The plant has provided over 400 employment opportunities for the locals. From a single building in 1996, it has now expanded into 14 buildings with a total paid-up capital of RM20 million as of today. The plant practices integrated quality system which enables it to stand at par with other international plants. Asturi is proud in having a plant that is environmental friendly. Most of its 30,000 m² fabrication shops and 81,000 m² land area are surrounded by plants and trees.
Quality Products and Dependable Service
Asturi existing clients include some major players in the oil and gas industry such as Shell, Exxon-Mobil, Lurgy and Foster Wheeler, to name a few. Driven by the desire to meet the requirements of the international standards, which in the long run will benefit both Asturi and their clients, Asturi has tremendously improved the quality of products by adopting the integrated quality system.
In terms of product development, Asturi has advanced from smaller to bigger and more value-added products. The company is known for the fabrication of pressure vessels and heat exchanger. A pressure vessel is a closed container designed to hold gas or liquid at a pressure substantially different from the ambient pressure while a heat exchanger is a piece of equipment built for efficient heat transfer from one medium to another. As recognition for the quality of Asturi products, the company was appointed as the official vendor of Petronas for both equipments i.e. pressure vessels and heat exchangers, in 2005.
Apart from fabrication of process equipment, Asturi's rapid growth has allowed them to offer a complete range of other services such as Blasting & Painting, Plant Maintenance, Well Services, Civil Engineering Works and Manpower Supply.
Global Presence
Asturi are able to serve their clients seamlessly across geographical borders. They can relate instinctively to the challenges of global businesses, tailoring the needs of a specific country or a niche sector of the market. With efficient operations, focus on R& D, compliance of strict quality norms and strong distribution network, Asturi are able to embark on their global presence.
In order to achieve its ultimate aim to penetrate the highly lucrative Middle East market, Asturi has appointed agents in countries such as Saudi Arabia, United Arab Emirates and Qatar to promote its offerings. Asturi has also established its downstream marketing presence in key Asian markets such as Singapore and Brunei.
To further strengthen their position in the global market, Asturi applies an Integrated Quality Systems which comprises of ISO 9001:2008 Quality Management System, 5S Japanese Quality Management System, Electronic Total Quality Management and the OHSAS 18001:2007 for all of its products and management system.
Awards & Recognition
The company has won many awards and recognitions from various organisations, such as Industry Excellence Award 2008 for Quality Management Award category from Ministry of International Trade & Industries (MITI), the Best Vendor in Continuous Improvement 2008 from Petronas, the National Quality Environment (5S) Award 2008 from Malaysia Productivity Council (MPC) and the Chief Minister Quality Award 2007 by Pahang State Government.
---
From the CEO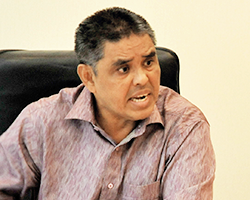 DATO' MD. SHARIF SHAMSUDDIN
Managing Director, Asturi Metal Builders (M) Sdn. Bhd.
Dato' Md. Sharif Shamsuddin, the Managing Director of Asturi Metal Builders (M) Sdn Bhd, is an extremely passionate, disciplined and motivated individual. His hands-on approach in leading the company that he founded is the key to Asturi's success.
1 Dato' Md Sharif participation in the fabrication of oil & gas industry was by chance. He was introduced by a friend to enter the industry who convinced him that the oil & gas industry was growing and it was predicted at that time that the industry will become one of the biggest industry in Malaysia.
2 One of the challenges in this industry is to deliver the product on time. As 90% of the raw materials are from overseas, Asturi need to ensure that these raw materials arrive on time to avoid creating a ripple effect.
3 Dato' Md Shariff believes that Asturi needs to diversify in order to sustain. He considers every product has it owns life cycle and you cannot depend on a single product. In order to be competitive, Asturi has expanded their product base, participated into other ventures such as heavy transport, manufacturing standard products and has created 10 new incubators which will be built on 45 acres of new land to maintain a steady flow income.
4 His proudest achievement and most satisfying moment was when Asturi's revenue crossed the RM100 million mark. When he first started, his initial target was to achieve RM5 million and he can only dreamt of passing the RM100 million. However, he determines to lead Asturi to continuous growth and the next target is to reach the RM1 billion mark in revenue.