STRAND Aerospace Malaysia is part of the STRAND Group of companies with offices in Malaysia and the United Kingdom with depth of capabilities and reputation for technical excellence has allowed us to be involved with cutting-edge programs globally. Focal point for global aerospace in Asia

Since its establishment STRAND Aerospace Malaysia has achieved major engineering services milestones in the South East Asian region. This epitomized by the significant primary structures analysis and design work we have done involving Airbus' flagship aircraft. STRAND Aerospace Malaysia has established itself as a key supplier of aircraft engineering design and analysis services to the global aerospace industry. Its goal is to become the focal point for the global Aerospace industry in Asia.
The services covered by the STRAND Group include design, engineering for continuous product development (CPD), certification analysis (checkstress), manufacturing support, in-service support, aircraft structural integrity, training & development and research. The work covers on both primary and secondary aircraft structures. The current portfolio includes work on wing box structures(ribs, spars and skins), pylon attachments, aileron, flaps and landing gear.
STRAND Aerospace Malaysia holds AS EN SJAC (Cert No. 2009/32562) and ISO 9001:2008(Cert No. 2009/32561) certification with a wide scope covering the design and analysis of composite And metal structures components. The company also holds Airbus Approval (Metallic & Composites) (Cert No. 300135 since 2006 and a registered member of the Airbus Supply Chain and has been audited Approved by various Airbus Tier 1 and E2S companies. STRAND will command more than 350 engineers by 2014 to accommodate their clients' needs and contribute towards the training and capacity building of engineering service in the country.
The company serves major international aeronautics clients such as Airbus UK, Airbus North America, Messier-Dowty, BAe Systems, WS Atkins Aerospace, Aerosud, GKN Aerospace, GE Aviation Services, Assystem and Composites Technology Research Malaysia. Strand Aerospace Malaysia's projects have Involved the entire Airbus fleet, as well as military aircraft such as the Tornado, Harrier and Nimrod.
---
From the CEO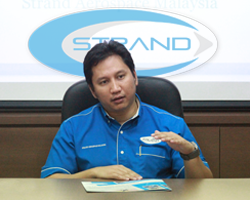 MR. NAGUIB MOHD NOR
COO, Strand Aerospace Malaysia Sdn. Bhd.
His enthusiasm and in-depth technical ability made Naguib Mohd Nor as the Chief Operating Officer and Co-Founder appears as a good role model of a leading aviation engineering company. He obtained his Bachelor's Degree in Aerospace Engineering from the University of Manchester Institute of Science & Technology and Masters in Aerospace Vehicle Design from Cranfield University, both in the United Kingdom (UK). Mr Naguib began his career as a stress engineer at Strand UK, paved his way towards becoming the General Manager at Strand UK and subsequently, setting up Strand Aerospace Malaysia. He strategically positions Strand Aerospace Malaysia to be one of the world's foremost aviation engineering services companies.
1 Mr Naguib is a firm believer that Malaysian engineers are among the Best in the world. Technically competent with a strong mathematical base, they can easily work anywhere in the world. With more exposure to the industry, this group of engineers will be able to appreciate the potential growth of the business; being the workforce for a knowledge-based service provider.
2 Mr Naguib believes that Malaysia has a lot of potential to be the hub of the engineering services for the region, particularly in aviation. Malaysian companies need to expand their networks to leverage on their strength in engineering. This can be achieved by doing their homework and shift their linking to be a global player rather than being easily content to service only their home market.
3 Mr Naguib would advise the Malaysian Diaspora to look for the opportunities in Malaysia to expand their business. They should build their network and keep tabs with the development in the country; as opportunities abound with the right partnership.