Established in 1999, ItraMAS Corporation has been a leading system integrator in Intelligent Transport System (ITS) industry and has been recognised by Global Industry Analyst Inc., a US-based research organization on their efficiency and competency as one of the global key players in the ITS industry. Its Light Emitting diode (LED) innovations have also been recognised worldwide for its quality and usability in various industries.
The company produces a variety of LED-based lighting systems combined with its products for use in residential, commercial as well as public sectors. Due to the extensive range of offering, the company has also expanded to become an OEM and ODM manufacturer for automobile lights.
Other service offerings include the intelligent traffic system solutions and surveillance integration which was a result from continuous Research & Development activities. These are well supported with customised traffic flow management design and various transportation system peripherals utilising the latest LED technology.
Their product ItraMAS' i.tac™ Control Centre Software streamlines security and surveillance solutions by coordinating and automating the responses to any emergency situation. It can also be scaled to suit the size and needs of the clients, depending on the requirement and is flexible for wide scale adaptation from warehouses to commercial building, transportation hubs and municipal as well as homeland security.
Clean Energy
Meeting the increasing demand for energy poses many challenges: increasing efficiency, developing new supplies and safeguarding the environment. ItraMAS Corporation has invested millions into its research and development activities, both in-house together with its academic and research partners to come up with improved lighting solutions that would generate minimal impact to the environment. Their division under Advanced Optics Laboratory was setup for this main purpose and to continuously improve its broad range of products.
These high performance products have been patented and received international certifications such as the US Underwriter Laboratory (UL), Certified European Standards (CE) and also from SIRIM Malaysia. Collaboration partnerships with other leading industry giants such as Cree were also established to jointly develop illumination solutions.
From Local to International
In the year-2007, their US-based lighting division, Digital Lighting Inc. was listed as an Energy Star partner, a rare accomplishment for a Malaysian based company and particularly noteworthy for a company of its size.
Commercialization of their products have resulted in it being successfully implemented and used in countries such as United States, South Africa, the Middle East as well as parts of Asia. Among the major accomplishment for its LED products was when it was being used for the lighting of the Forbidden City in Beijing, the historical landmark recognised as a World Heritage Site by UNESCO.
After years of hard work, the company's creative research outputs and design had granted them honourable mention in the United States Department of Energy "Lighting for Tomorrow" competition in 2008. It has come a long way from its humble roots, and now offers consultancy for its customised products specifically targeting architectural lighting projects.
To date, its lighting products have been used in over 17 countries which include Saudi Arabia, United Arab Emirates, United States, Panama, Italy, Germany, France, Lebanon, South Africa as well as Asian countries including Japan, India, China, Thailand and Singapore. Due to the many developments and successes it has enjoyed, the company is currently looking for distribution partners and agents to help them expand their market share and to push their environmentally green technology to other countries.
---
From the CEO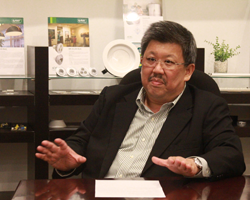 MR. LEE CHOO BOO
CEO, Itramas Corporation
Mr Lee Choo Boo is a mechanical engineer by training who has extensive experience in the LED industry for over 27 years, started his career in Hewlett Packard Malaysia in designing LED chips and packages. The CEO and Managing Director of ItraMAS Corporation share his enthusiasm for lighting up the world the environmentally friendly way.
1 Mr Lee firmly believes that Malaysian innovation has a lot to offer when it comes to lighting up the world with LED as he enjoys the challenge of competing with the big names of the lighting industry such as Philips and Osram.
2 As more countries realise the importance of energy efficiency, there are greater opportunities to be obtained by manufacturers and suppliers of environmentally friendly electronic products. Mr Lee is determined that ItraMAS will lead the way for manufacturers of LED products in Malaysia and the region, as success is about having the right product at the right time.
3 He is passionate about physics and its role in our daily lives often looking to Einstein for inspiration, and adheres to the principle that wisdom is not only obtained in school, but is obtained through a lifelong acquisition process.
4 The company's latest product, the Q-RAY lighting system, paid tribute to Mr Lee's favourite physics branch of quantum mechanics. Innovations in quantum mechanics applications are responsible for developing the technology produced by his company.