"After spending a decade working overseas, the CEO Mr Khairil Adri Adnan decided that Malaysia was in need of a company that provided engineering services that would encourage local talent."
---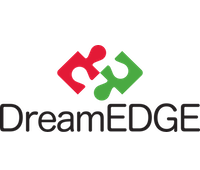 Company :
DreamEDGE Sdn. Bhd
Sector :
Engineering
Contact :
4800-3A-7, Tingkat 4 Blok A1,
Jalan Perdana, CBD Perdana,
63000 Cyberjaya,
Selangor, Malaysia.
Tel : +603-8320 3800
Fax : +603-8320 3900
E-mail : This email address is being protected from spambots. You need JavaScript enabled to view it.
Website : www.dreamedge.jp
---
Gallery
DreamEDGE's CEO started his company in 2007 after having worked as an engineer in Japan for the past ten years. While working there, he learned and understood the need for engineering services in his home country of Malaysia, and DreamEDGE started to begin fulfilling those needs so that his own country might start developing and exporting its own innovative technologies and talents, rather than depending on outsourcing those services from other countries.
DreamEDGE focuses on digital engineering services with a broad number of new engineering technologies ranging from Data Exchange Service to CAD Data Designing and Modeling Service, CAE Analysis and Simulation, Special Training Program and Consultancy, CAD Data Conversion Service, PLM Solution, and Outsourcing Services.

The CEO started out with his company by talking to his clients and learning their needs. His passion centres on building human capital in Malaysia by creating a knowledge-based company that attracts local, talented individuals in his field. He hopes that one day this growth in local talent will help Malaysia step up and advance to be among the best countries when it comes to innovative technologies. The CEO believes that this advancement will place Malaysia on the same level as other leading countries and make them more competitive in the global market.

DreamEDGE began as a simple company with only five employees in 2007. Today the company employs over one hundred and fifty engineers. In the beginning, the company only offered engineering services, such as design services offshored from other countries. Today the company focuses on design and development and has begun developing new products of their own. The CEO jokes that they might become the next big car manufacturer, and the company has already developed cars, monorails, and other automotive designs. The company also provides digital testing services for their designs. More recently, the company has begun developing new products for the healthcare sector particularly in the field of dental care which includes ceramic tooth crowns and even clear plastic braces. The company puts a lot of focus into creativity and innovation when it comes to their products and designs.

The CEO explains that many products have already been designed by the company, and only awaiting for funding for the product to become commercialised. When proposing a product or design for funding, most of the focus is placed on the product itself; the CEO feels that a great product will attract the right funding, especially if there is passion involved. "Just do it and funding will come," he says.
CUSTOMER PRIORITY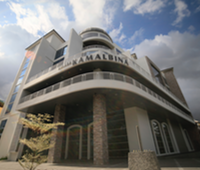 The biggest challenge for DreamEDGE in the beginning was being a new and unknown company in a competitive market. DreamEDGE began as a company of only engineers, which is unusual for a business. This challenged was faced by accepting smaller, short-term jobs that the CEO says allowed them to prove themselves and gain more long-term customers. Another local challenge has been maintaining the motivation of staff members. Many young people will move on instead of sticking with a job for a long time, so to keep their employees the company arranges games and other activities during employee down-time in order to build a community that enjoys where they work.

On a global scale, the CEO says that the only challenges have been marketing the company and finding the right contacts in unknown markets. They have combated this challenge by keeping their prices low and delivering high quality jobs that exceed their clients' expectations. Today, DreamEDGE has served customers in Germany, Austria, Japan, Saudi Arabia, and the United Kingdom. They hope to expand soon into the Middle East; not for their engineering services, but to sell developed products.
---
From the CEO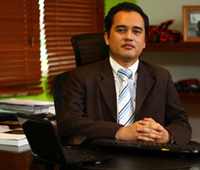 Mr. Khairil Adri Adnan
CEO, DreamEDGE Sdn. Bhd

1The success of DreamEDGE comes from the talent that the company employs and their willingness to go beyond simple engineering services to expand and provide something more. Local talent encourages better engineering and technological education in Malaysia and will help both the company and the country remain competitive in the international market. Today DreamEDGE employs over one hundred and fifty engineers who have a high commitment to what they do.They work hard as a team and do all they can do prove their worth to their clients.
2 The CEO says that they will try to finish projects before deadlines and deliver the highest quality product or services that goes beyond what their clients expect.
3When asked about what advice he would give to others entering the field, the CEO says, "just do it and make it." He feels that many people who find themselves unsuccessful do so because they give up easily or make excuses for themselves.
4 Patience is very important, and it is also important to persevere in order to succeed. The CEO has spent many years sharing his ideas and his passions with others, and today his company has enjoyed success both in Malaysia and overseas.