Terra Garden is a unique landscaping service in many ways. In addition to their custom-designed modular gardens, this company has created the first known concept of the 'Malaysian garden.' These gardens feature motifs from the many cultures that make up Malaysia today, embracing the country's rich diversity, and also follow the philosophy of appealing to each of the five senses, creating a space that goes beyond a garden and becomes an outdoor living space.
Terra Garden, the company behind the Neo Nusantara garden concept, started off as Garden Mart Centre, incorporated in 1991. The company began selling terrariums in small glass containers. Since then the CEO has created a 'Malaysian garden' concept using modular, custom-designed gardens in Malaysia and internationally. The company has won many awards and has been featured in magazines, newspapers, and on local television.
The idea of a 'Malaysian garden' begins with the idea of Malaysia as being a melting pot of cultures. Terra Garden seeks to reflect the richness of the history, art, and traditions of all of the cultures that are rooted in Malaysian society. Their modular gardens contain motifs that are unique to all sorts of cultures, including Chinese, Japanese, English, and more. Beyond that, the design is created to appease the five senses: sight, sound, touch, smell, and taste. Terra Garden seeks to capture the beauty of nature and reward the senses so that people will make any excuse to spend more time in their gardens. A Malaysian garden is not just a garden – it is an outdoor living space.
The CEO believes there are three points that make his company such a success: passion, working hard, and striving for originality. The company holds true to its philosophies and works hard to create beautiful, sensory-rewarding designs. Everything included in a Malaysian garden reflects something unique and specific to the multi-racial Malaysian culture. "For every piece, we make sure there is a story reflecting our lifestyle." Terra Garden uses only local sources when designing and building their gardens.
The services offered by Terra Garden go beyond design and installation. A modular garden will be built and installed over the course of a single day, morning to evening. The company also offers maintenance services to their customers after installation. The CEO describes the idea of keeping the level of pleasure someone receives from a garden above the level of maintenance required. "If maintenance exceeds pleasure, then the maintenance becomes a chore," the CEO explains. Terra Garden removes this possibility by offering maintenance services on either a part-time or full-time basis.
CUSTOMER PRIORITY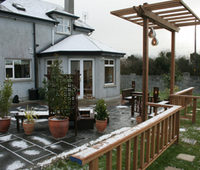 Entering the landscaping industry and creating the concept of Malaysian gardens were not without challenges. Because this was a new idea, there have been critics. The CEO says that expanding internationally has been a way to add a sense of substance to the company and to provide proof of concept for the Malaysian garden, both to themselves and to critics. Terra Garden had a lot of support for going abroad, but they had to do their own promotions to convince people both locally and internationally of the concept of the Malaysian Garden. The CEO explains that some have criticized their designs, but it is all about interpretation. Because Malaysia is such a melting pot, a Malaysian garden seeks to create harmony out of the diversity of cultures found there. Maintaining the quality of the final product has also proved challenging for international clients. To overcome this, the CEO places focus on reflecting their culture in every finished project.

With great heights it has exported to Switzerland, Ireland, Birmingham, Melbourne and New Zealand. With future plans to expand to the Middle East, Europe, Latin America and the USA. Previously has worked on projects named Institut Tanah & Ukur Negara (INSTUN), Malaysian Timber Industry Board (MTIB) and Istana Melawati. Its work has been honoured with awards such as Good Design Award from Japan and Excellence Award @Waikato Home & Garden Show @Hamilton, New Zealand.
Malaysia has many landscaping and gardening companies, but despite the steep competition Terra Garden has strived to remain unique and true to itself. They work hard to create unique interpretations and designs, and never copy the designs or concepts of other companies. Originality is something that allows the business to thrive despite the competition. Once a particular market is penetrated, Terra Garden works closely with local partners to maintain their business and ensure that every client is pleased with their product.
---
From the CEO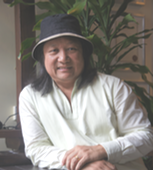 Mr. Desmond Ho
CEO, Terra Garden Sdn. Bhd.
1When asked where he sees the company in ten years' time, he says he hopes the concept of a Malaysian garden will be a common idea both throughout Malaysia and in other countries. The company has worked hard to prove the concept and hope it will remain.
2The concept won't be static, though: the CEO describes his hopes that the idea of a Malaysian garden will adapt and evolve with time. This is a living concept that will change as the culture, diversity, and lifestyles of people who live in Malaysia also change. The company's direction and goals depend on the acceptance of 'Malaysian garden' both locally and abroad. "Eventually Malaysian gardens belong to all Malaysians. If they do not accept the concept, it is not Malaysian."
3The CEO's advice for young people trying to enter the gardening field? "Don't come in," he laughs. Getting serious, though, he says that persistency and passion are the key. There is a lot of hard work required, but when passion is involved there really is no such thing as hard work.