Strand Aerospace Malaysia Sdn Bhd

MAIN MENU

COMPANY LIST
DEVELOPING ENGINEERS
THAT THE WORLD CAN
RELY ON

KNOWLEDGE-BASED
SERVICES FOR
THE WORLD

PEOPLE DRIVEN INNOVATION
ENGINEERS THAT THE WORLD CAN RELY ON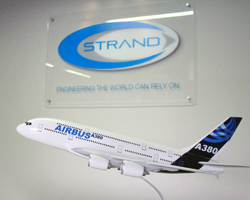 COMPANY :
STRAND AEROSPACE MALAYSIA SDN BHD
SECTOR :
ENGINEERING SERVICES
CONTACT :
B.13.02 & B.13.03 Menara BATA
PJ Trade Centre
No. 8 Jalan PJU 8/8A
47820 Bandar Damansara Perdana
Selangor
TEL : +603 7495 5222
FAX : +603 7495 5221
E-MAIL : analysis_m@strandeng.com
WEBSITE : www.strandeng.com/malaysia

STRAND Aerospace Malaysia is part of the STRAND Group of companies with offices in Malaysia and the United Kingdom with depth of capabilities and reputation for technical excellence has allowed us to be involved with cutting-edge programs globally.
Focal point for global aerospace in Asia
Since its establishment STRAND Aerospace Malaysia has achieved major engineering services milestones in the South East Asian region. This epitomized by the significant primary structures analysis and design work we have done involving Airbus' flagship aircraft. STRAND Aerospace Malaysia has established itself as a key supplier of aircraft engineering design and analysis services to the global aerospace industry. Its goal is to become the focal point for the global Aerospace industry in Asia.

The services covered by the STRAND Group include design, engineering for continuous product development (CPD), certification analysis (checkstress), manufacturing support, in-service support, aircraft structural integrity, training & development and research. The work covers on both primary and secondary aircraft structures. The current portfolio includes work on wing box structures(ribs, spars and skins), pylon attachments, aileron, flaps and landing gear.

STRAND Aerospace Malaysia holds AS EN SJAC (Cert No. 2009/32562) and ISO 9001:2008(Cert No. 2009/32561) certification with a wide scope covering the design and analysis of composite And metal structures components. The company also holds Airbus Approval (Metallic & Composites) (Cert No. 300135 since 2006 and a registered member of the Airbus Supply Chain and has been audited Approved by various Airbus Tier 1 and E2S companies. STRAND will command more than 350 engineers by 2014 to accommodate their clients' needs and contribute towards the training and capacity building of engineering service in the country.

The company serves major international aeronautics clients such as Airbus UK, Airbus North America, Messier-Dowty, BAe Systems, WS Atkins Aerospace, Aerosud, GKN Aerospace, GE Aviation Services, Assystem and Composites Technology Research Malaysia. Strand Aerospace Malaysia's projects have Involved the entire Airbus fleet, as well as military aircraft such as the Tornado, Harrier and Nimrod.