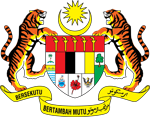 MINISTER OF INTERNATIONAL TRADE AND INDUSTRY
MALAYSIA
MALAYSIA EXTERNAL TRADE STATISTICS
MEDIA STATEMENT
Trade Remains Robust in 2017
The first eight months of 2017 have seen unprecedented growth in Malaysia's trade. Growth has exceeded 20% every single month of the year, except for January and June. Last year total trade breached the RM1 trillion mark in September but this year total trade reached RM1 trillion earlier, in July. In 2016, total trade increased by 1.5%. We had earlier estimated total trade in 2017 to grow by about 3%. Although we expect some slight deceleration at the end of this year, partly because of the base effect, Malaysia is likely to record a total trade growth exceeding 10%, given the strong performance in the first eight months.
The trade surplus has also been healthy, increasing to RM60.84 billion for the first eight months of 2017. In the same period last year, it stood at RM52.47 billion. This year we are likely to see a slight increase in the trade surplus compared to RM88.15 billion in the whole of last year.
A very important feature of this year trade is that there has been strong growth in most sectors and key markets. Increases in exports have been across the board.
Manufactured goods have performed well, particular electrical and electronics products. E&E exports amounted to RM220.56 billion (January to August 2017), growing 21.4% compared to the same period in 2016. We expect the E&E sector to continue to grow given the improvement in global semiconductor sales and strong projections from the smart devices, automotive, storage and healthcare markets. Another area showing strong performance is mining goods, driven by crude petroleum and LNG, which collectively surged by 34% to RM45.16 billion during the same period. This is due mostly to higher and more stable global energy prices.
Trade with China strengthened to 26% in the first eight months of 2017 to RM188.26 billion compared to the previous period. This was driven by exports which surged 36.5% to RM80.47 billion. Trade with our key markets, ASEAN, EU, United States and Japan remained strong with growth of 23.9%, 18.3%, 19.7% and 17.7% respectively in the first eight months.
Malaysia's trade remains resilient driven by diversification in exports. E&E accounted for 36% of exports in January-August 2017, while Petroleum, LNG and Chemical products account for 22.7% of exports. Agriculture including palm oil & palm oil based products is also an important component of Malaysian exports, amounting to 8.5% of total exports.
The World Trade Organization recently raised their 2017 growth forecast in world merchandise trade volume to 3.6% from a previous estimate of 2.4%. This is attributed to a resurgence of Asian trade flows as intra-regional shipments picked up and as demand in North America recovered after stalling in 2016. We foresee that Malaysia will benefit from the increase in global trade with our trade remaining robust for the rest of 2017.
Dato' Sri Mustapa Mohamed
Minister of International Trade and Industry
Download PDF: