Making fresh and healthy snacks for everyone is the cornerstone of Nelson's philosophy in helping people set up their business.
Every visit to Nelson's is assured of a wholesome and delicious snack from waffles to dorayaki, sausages and corn soup mixed with cool and refreshing ice-blended beverage and bubble tea. From their best selling corn-in-a-cup, Nelson's has innovated other corn-based products, from delicious corn drink to satiating corn soup to fulfil the market demand for tasty and healthy snacks.
Quality products are a must for Nelson's. This is the reason the company has ventured into farming and manufacturing of corn and other agriculture-based products to ensure high quality food is served at their franchise. They have also been supplying other restaurants and food-chains with their top-grade corn and agriculture products. All Nelson's products are rigorously checked for quality control from the farm all the way into the manufacturing process before it is made available to the consumers. Nelson's has obtained HALAL certification to ensure the purity of their products for the discerning market.
Smart Business Partnership
The company aims to continue to provide natural and high quality wholesome food from home-grown farms to their customers in Malaysia and worldwide in partnership with their franchisees. Nelson's is looking forward to explore new markets and to innovate new products to continue to serve the world with healthy, wholesome and delicious snacks.
Nelson's has developed a system for training outlet operations and in-house management training to support their franchisees and business partners. This ensures a high standard of service delivery that is uniform across all Nelson's outlets. Nelson's believe in sharing their experience and excellent products with those who are venturing into entrepreneurship, both at the local and international level. They are always looking for opportunities to build businesses from farmers to process manufacturers as well as franchisees in order to serve the market.
Nelson's – Serving Malaysia And The World
Nelson's Franchise began with the corn-in-a-cup concept and has grown to serving a variety of healthy snacks at their franchise outlets. Nelson's is always looking to upgrade and improve their operation and procedure to continue serving the world with delicious and healthy snacks while growing with their business collaborators.
No matter where the locations or market needs are, Nelson's is eager to share their concept and products that can be customised to suit the market's preference. The attitude of 'building businesses together with others' is the key to Nelson's success in more than 17 countries worldwide. The company has made a breakthrough in entering the China market since 2011, expanding from Indonesia, as the first international market to include Brunei, Turkey, Germany, Egypt, Middle East and the United States. This success is due to Nelson's adaptability to market demands and the ability to tailor their products to suit local consumers' taste and preference. Utilising MATRADE's service for internationalisation of Malaysian brands, Nelson's continue to strengthen their global market presence, not just for their franchises, but also their supply chain products.
---
From the CEO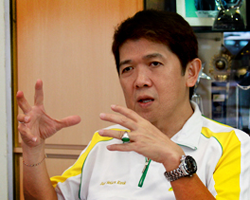 DATO' NELSON KWOK
CEO, Nelson's Franchise (M) Sdn. Bhd.
Dato' Nelson Kwok's journey in life has underscored his philosophy that life is about sharing. His cheerful smile lights up his sombre demeanour when he speaks about his discovery on how people can enrich their life (and your coffers) by enriching others. The CEO and founder of the company that still bears his name share his thoughts on the nature of success and how to attain it.
1 He has not always styled himself as an entrepreneur. Upon graduation from Tuanku Abdul Rahman (TAR) College, he has embarked on various jobs from working in sales in food industry and banking to toy retailing. It was only during the mid 1980's economic crisis that he discovered the near-constant profitability of food products. Since then, he embraced the food business and kept it going to a global concern.
2 His various experiences through working for others had contributed immeasurably to shaping his perspective, guiding him to navigate the potential pitfalls of the business world and prepared him to handle the challenges that came his way. However, this experience has also taught him that working for others does not suits him.
3 Generosity of spirit is not just a say-so for Dato' Nelson Kwok. This is the foundation of his business practice and philanthropy pursuits. His personal motto in life is that a person must always think about how to give back to society and contribute to the world, rather than living for individual enjoyment alone. Every successful person has a responsibility to make sure that the world becomes a better place and do their bit to make it happen.
4 Success is not a destination, but a journey for this humble man. Life is about changes and the same goes for business. He doesn't believe in staying in your comfort zone, but to evolve with the economic situation and being flexible. This is why he diversified his business into agriculture and the supply chain, continuously working to make Nelson's a globally recognised brand.
5 Dato' Nelson Kwok's secret to success is to cultivate positive values. He emphasised the importance of sincerity and honest conduct in business, greased by goodwill engendered by congenial personality and kindness. He urged for young entrepreneurs to not be afraid to start small; they should learn the ropes and avoid letting failure defeat them. He believes that humility leads a person to be more aware of their responsibility and have the patience to persevere to attain success.
6 Dato' Nelson Kwok believes that you can have it all; it's a matter of maintaining the right perspective and effort to enrich all facets of your life. Life must be balanced between business and family; never sacrifice your personal life on the altar of success.