Muhibbah's Group was incorporated 40 years ago to provide engineering and construction services to the newly industrialised economy of Malaysia.
The Group is synonymous with mega scale projects, particularly in the field of oil and gas, renewable energy, airports, administrative complexes, marine facilities as well as road works. Muhibbah's Group entered the Kuala Lumpur Stock Exchange in 1994 as a public listed company and has since grown further to incorporate crane manufacturing firms from Australia and Denmark into its construction services and industry portfolio.
Building in Harmony with Nature, Safely
Muhibbah's Group is committed to pursue, implement and continuously upgrade their Environmental Management System in line with the rigorous guidelines set by the ISO 14001:2004 specification for all the projects undertaken by the organisation. All projects by Muhibbah Engineering are designed with optimal use of natural resources while preserving the environment by preventing pollution and minimising the environmental impact. The Environmental Management Programme (EMP) of the company ensures that all the staffs of the project are well-trained in the environmental management system that is compliant with the local statutory requirements.
The conviction that the strength of a company is only as good as its people is the core that drives Muhibbah's Group to set up the best practices to ensure the safety and health of its workforce. Hence, Muhibbah's Group continues to implement and enhance their Safety and Health Systems in accordance to the British Standard for Occupational Health and Safety Management System (OHSAS 18001).
The Energy Builder for the World
Muhibbah's Group is an acknowledged expert of oil and gas platforms and petrochemical plants, both on land and off-shore. The company's extensive experience in plant and platform installation, maintenance services and turnkey contracting made them a trusted name, securing contracts to build the industry facilities in Malaysia, Sudan, Yemen and Singapore.
Renewable and sustainable energy sources are important in today's energy hungry world. Through the Muhibbah Engineering (Deutschland) arm, Muhibbah's Group has ventured into wind farm installations, harvesting clean electricity powered by wind. Muhibbah's Group is also experienced in the construction and maintenance of hydroelectric dams, as evidenced by their various projects in Malaysia such as the Beris dam in Kedah and the Bakun hydroelectric project.
Spine of Steel
Innovative solutions to construction are one of Muhibbah's Group's core values. To facilitate the demand for high end construction services and engineering, Muhibbah's Group has diversified to include steel fabrication for land and marine construction, specialising in infrastructure for the oil and gas industry as well as crane manufacturing. Their cadre of engineers, designers and skilled steelworkers are always working to come up with better permutations of their products to suit any kind of architectural design without compromising on quality and safety. Muhibbah Steel Industries have received various accolades for its superb and leading edge construction fabrication products; its manufacturing practices have received the ISO 9001:2000 certification to verify its quality.
One of the jewels in the Muhibbah's Group subsidiaries is Favelle Favco, home of the largest hammerhead crane and the largest luffing tower crane in the world. Composed of two international brands, Favelle Favco and Kroll, the company has established a reputation for building the world's fastest cranes. Favelle Favco cranes are the cranes of choice for super high-rise buildings, having constructed 9 out of 10 of the world's tallest buildings ever built to date.
Muhibbah's Group is determined to maintain their standing as a global player in the construction services and manufacturing industry. They pledge to continue to deliver high standards of workmanship, conformance to contract specifications through quality management and planning. Ultimately, the underlying asset driving Muhibbah's Group is the wealth of experience of their dedicated people, making tailor-made solutions for all their clients' demanding requirements possible.
---
From the CEO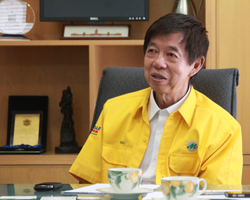 MR. MAC NGAN BOON
CEO, Muhibbah Engineering Bhd.
Mac Ngan Boon @ Mac Yin Boon has engineering in his blood, having come from a family of builders and contractors. The member of the Institute of Engineers and alumnus of the University of Western Australia started out by running a factory in Sungai Petani. The Co-Founder and Managing Director of Muhibbah's Group, a globally renowned construction and engineering company, shares some of his insights on how to capitalise on your strengths to build a solid international reputation.
1 His upbringing among engineers and contractors has inculcated in him a can-do spirit when it comes to problem solving. Mr Mac channelled his entrepreneurial drive to leverage his engineering and construction background to establish Muhibbah's Group as one of the premier construction company of the region.
2 Sacrifices are part and parcel of the journey towards success. However, a good family and social relationships are also vital for a well-balanced existence; one must ensure that there are mitigations to allow for both business and personal achievements.
3 Mr Mac believes that Muhibbah's Group is the sum of its people. He encourages his staff to have a sense of ownership of the company as he believes that this will drive them to excel beyond the expected performance.
4 Muhibbah's Group owes part of its success from the recognition given by the Malaysian Government. The support and opportunities given by the Government has helped Muhibbah's Group to develop their strength and portfolio that led them to be acknowledged as a global player in the construction industry.
5 In Mr Mac's view from working with engineers all over the world, Malaysian engineers are still among the best. However, they need to overcome their introversion and learn to communicate more aggressively to showcase their talents and make their mark in the industry.
6 After forty years at the helm, Mr Mac is loosening his hold on the reins even though he is still involved in the day-to-day business of the company. However, he has great confidence about the ability and skills of the next generation to take over and continue to drive Muhibbah's Group to greater pinnacles of success.