Centium Software's (www.centiumsw.com) core business is in healthcare and call center solutions development and consulting. Incorporated in 1998. Over the years, Centium Software has grown itself to be a full-fledge software house delivering solutions in Malaysia, Indonesia, India and now in Vietnam. Since inception, Centium Software has been delivering Call Center CRM software under the brand Centium, as described at this product website (www.centiumsuite.com)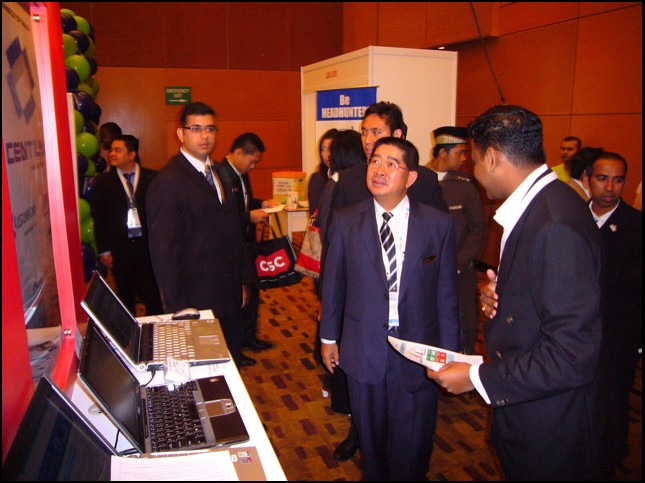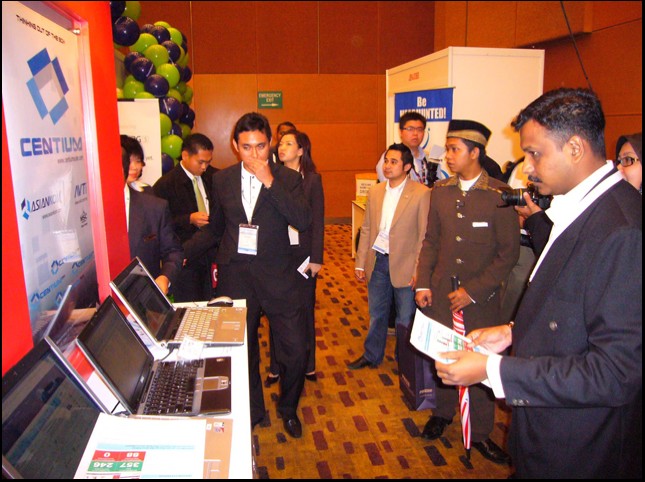 Caption: Mr.G.Saravanan showcasing the latest Centium Software's CRM to Datuk Dr. Maximus Johnity Ongkili, Minister of Science, Technology and Innovation
In 2005, Centium Software won a software development and consulting job for a healthcare center in Bangalore, India. Since then, the company has been expanding into the healthcare ERP area, and has delivered many solutions like Centium Blood Bank Information System http://bbis.centiumsuite.com. For clients in Malaysia, India, Indonesia and latest deal in Vietnam. In 2007 Centium Software joint ventured with an international group of hospital in South East Asia and started development on a product known as Centium HIS (Hospital Information System) http://his.centiumsuite.com. This was an instant success and the product is now being used in more than 15 hospitals in South East Asia. And in 2008
With the success of the Centium HIS, the company was awarded another healthcare contract, development of a Blood Bank System for a private Indian hospital in Bangalore. The same product is currently being deployed for a Malaysian government hospital.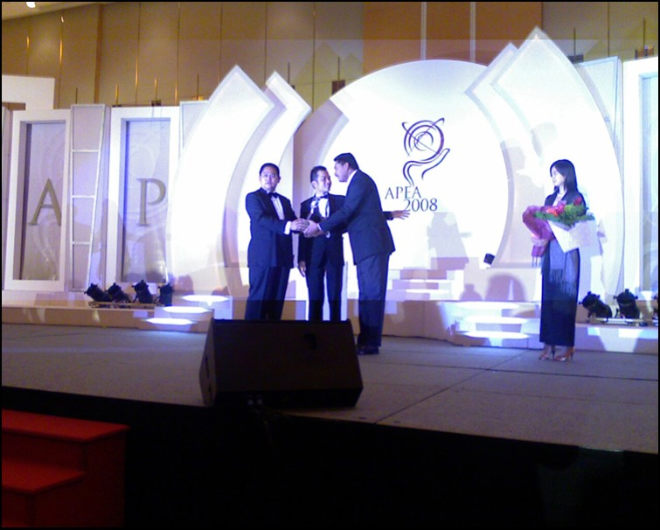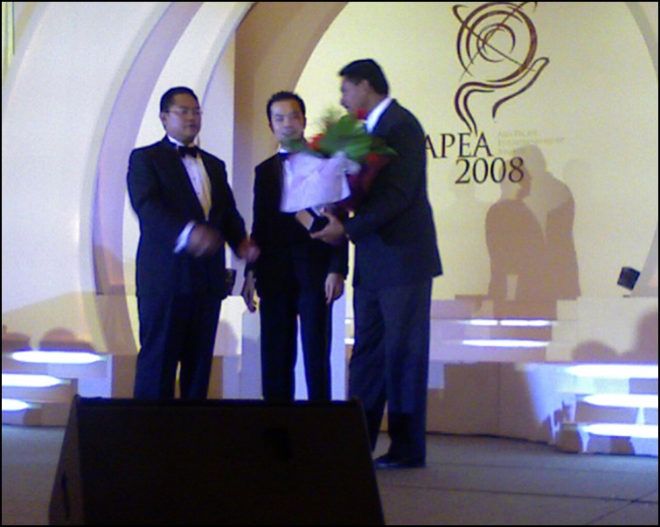 Caption:Mr.Ravishanker receiving "APEA's Most Promising Entrepuenur 2008" Award at KLCC, in 2008.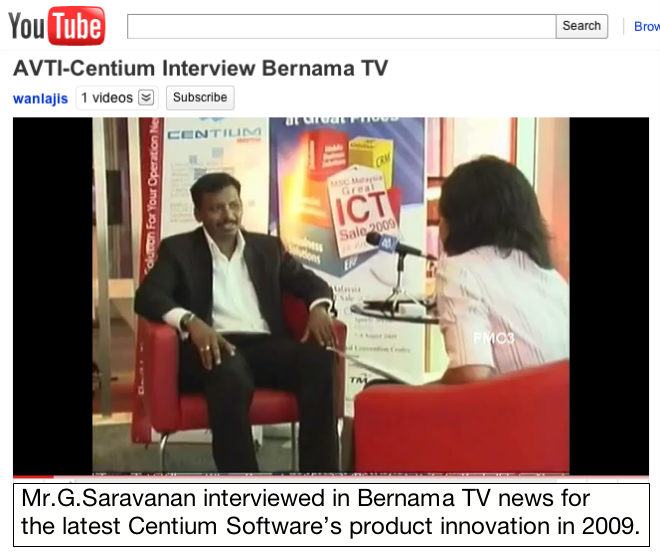 In 2008, with all of the above successes, Centium Software's managing director, Mr.Ravishanker won the "Most Promising Entrepreneur Award 2008" at the prestigious APEA ceremony. And in 2009, Centium Software launched the Centium CRM 2.0 at KLCC during MDec's Great ICT Sale, where the Centium Software's CTO, Mr.G.Saravanan was interviewed by Bernama TV for its latest software innovation. (http://www.youtube.com/watch?v=VFJ0pXkQKyI)
Centium HIS is a revolutionary solution with end-to-end features for simplifying hospital management – all at a cost which provides the fastest ROI. Access to the right information and the automation of complex tasks & workflow is the key focus of Centium HIS, enabling freeing the staff to spend more time on caring for patients and extending the reach of services.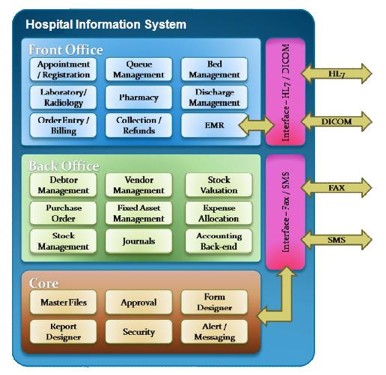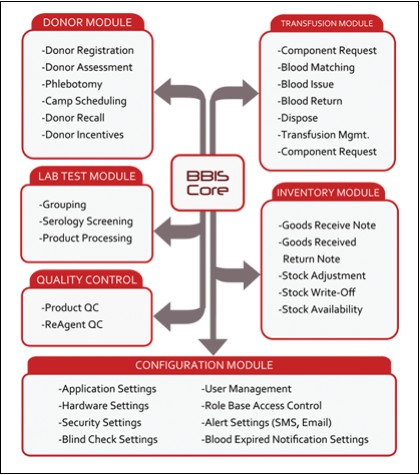 Centium HIS is a fully-integrated, information system created and implemented by Centium Software for implementation for small and medium hospitals. A system for a hospital would require being very precise and must result in operational cost reduction, process improvement and efficient management. Centium HIS is developed to be a solution which is very accurate in its approach and suits all environments including large, medium or small hospitals.
Centium HIS is designed to cover a wide range of hospital administration and management processes. It runs on all standard windows hardware platforms and can be easily customized to suit the requirements and reflect the priorities of a hospital management team.
At the Core of Centium HIS is our Electronic Medical Record (EMR), which is possible by a single integrated database. Centium HIS is designed with patient centric architecture. The EMR integrates all records of the patient, allowing the instantaneous retrieval of electronically generated material from any terminal in the Centium HIS system. Centium HIS front office strengths include its Registration, Patient Queue, Progress Notes, Online Prescription, Online Radiology, Online Laboratory, Admission, Discharge and Transfer).
Centium HIS's back office is a comprehensive suite of sub modules which comprise of all the applications necessary to administer a hospital. The sub modules include General Ledger, Accounts Receivable, Accounts Payable and Fixed Asset Maintenance modules, to Purchasing and Inventory modules that handle all materials management.
Besides the providing software, Centium Software has a team of people certified and experienced in various healthcare technologies and standards, ranging from HL7, HIPAA, SNOMED CT and various other specialties.
Contact Details
Mr.G.Saravanan (Mobile Phone Number: 0133832122)
A-5-2, Jalan 2/142A, Megan Phoenix,
Off Jalan Cheras, KM 10, 56000 Kuala Lumpur
T: +603-9106 1199
F: +603-9106 1177
E: This email address is being protected from spambots. You need JavaScript enabled to view it.
Websites:
http://centiumsuite.com
http://centiumsw.com
http://his.centiumsuite.com