ISO Certification for Malaysia External Trade Development Corporation (MATRADE)
MATRADE has been successfully awarded the MS ISO 9001:2015 certification which is effective from 7 October 2019 until 6 October 2022.
The efforts to acquire this certificate are intended to improve MATRADE's delivery system where it assisted MATRADE in identifying the deficiencies in its operations as well as providing corrective's measures in managing the matters. QMS also ensures that MATRADE best practices are documented for future usage.
Implementation scope of MATRADE Quality Management System (QMS) is the export promotion programs that cover for (4) major activities of MATRADE which includes:
International Trade Fair (TF) ;
Export Acceleration Mission (EAM);
Malaysia Export Exhibition Centre (MEEC); and
Exporters Training Program.
In addition, the implementation of MATRADE QMS also supported by several supporting activities including:
Conducting Management Review Meetings;
Planning Of Annual Programmes For TF And EAM;
Annual Planning Exporters Training Program;
Preparation Of Proposed Budget Management And Annual Development;
Document Control;
Supply Procurement Management/ Services/ Jobs;
Public Complaints Management/ Clients;
Product Control & Services That Do Not Meet Clients Need;
Corrective Action;
Risk Management;
Record Control;
Internal Quality Audit;
Competency Management And Training;
Facility Management;
IT Management That Related To Export-Promotion Activities; and
IT System Complaints Management.
MATRADE Quality Policy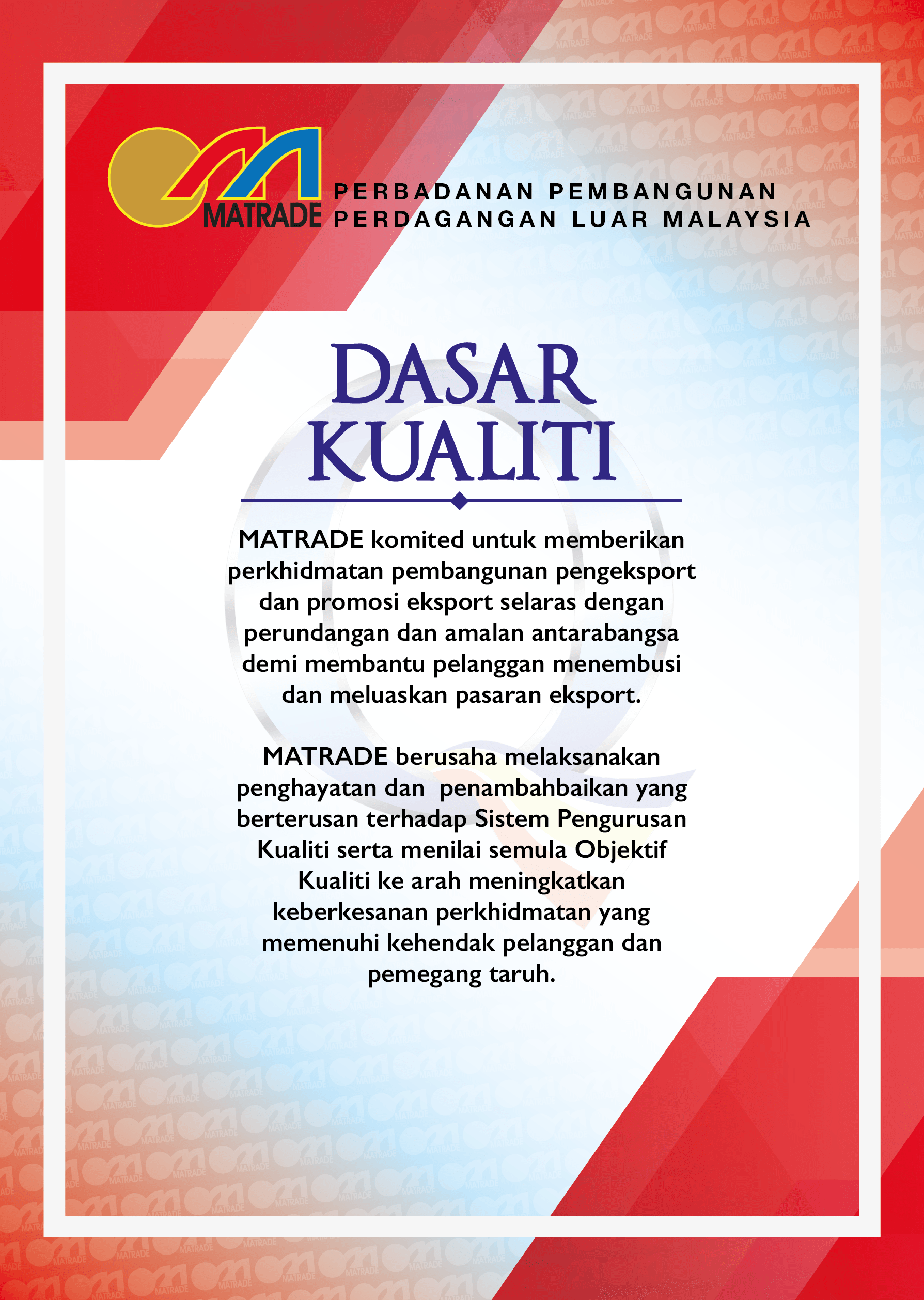 Click here to view the MS ISO 9001:2015 certificate

Click here to view the IQ Net ISO 9001:2015 certificate