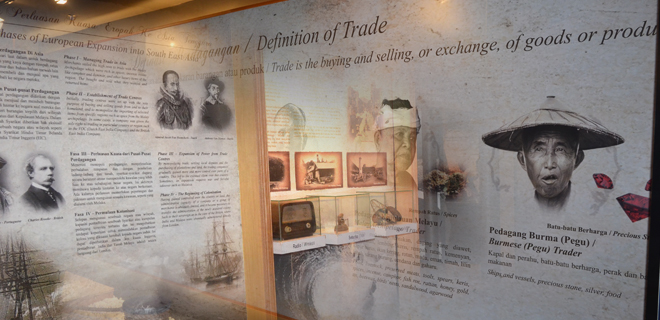 Presented by MATRADE and supported by MITI, this first Trade Galleria in Malaysia is strategically located in Menara MATRADE, an iconic building centered on trade promotion for Malaysia. The Trade Museum offers visitors a myriad of informative and interesting content on MATRADE and topics related to Malaysian trade - from times of old to this modern age.
Zone 1 (On The Trail of Trade)
This Zone explorers the external and internal circumstances and influences over time which led to the evolution of Malaysia's trading landscape across the centuries. Discover how the Malay Peninsula was destined by geography to emerge as on of the most significants lands that linked the trades of the world since early history.
Zone 2 (Evolution of trade in Malaysia)
Events, policies, people and key resources that drive Malaysia's economic success pre and post- Independence - this Zone showcases all that are representative of Malaysia's endeavor to spread its wings of trade both domestically and across global borders.
Zone 3 (Information Centre)
The Information Centre presents a range of relevant and useful references related to trade in Malaysia for visitor to peruse. This resource hub displays, amongst other documents, trade agreements and policies as well as Malaysia's Industrial Master Plans to date.