IMPORTANT ANNOUNCEMENT!
Kindly be informed that the application for the eTRADE Programme is now closed. eTRADE is a program under the 11th Malaysia Plan and is scheduled to end this year. It received overwhelming response from the Malaysian business community and exceeded all targets set. This completely exhausted our program budget.
In order to facilitate and expedite processing of applications prior to closure, we kindly request all companies that submitted applications with incomplete documents to provide the necessary documentations within 7 working days from the date of your submission. Not doing so would jeopardize the processing of your application and can result in a rejection.
Please ensure your email address is updated and correct as all communication will be done via email.
For the Malaysian companies that have been approved the eTRADE facility recently, please submit your claim before 15th Nov 2020.
You may refer to your respective eTRADE eCommerce platform providers or the eTRADE Secretariat (Mr Adhwa at 03-62077503 / This email address is being protected from spambots. You need JavaScript enabled to view it. or Mr Husni at 03-62077511 / This email address is being protected from spambots. You need JavaScript enabled to view it.) if you have any queries on your claim status.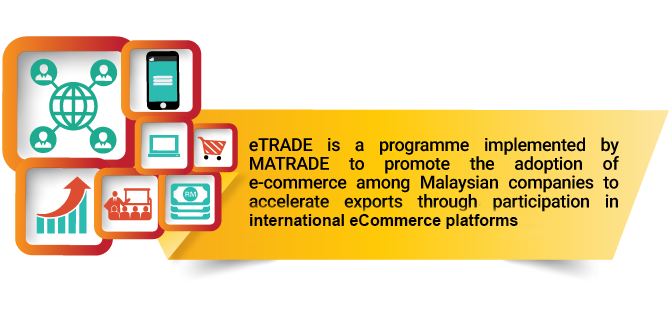 How has eTRADE helped Malaysian companies accelerate their exports through eCommerce?
eTRADE helps to boost the adoption of eCommerce among the SMEs to reach out to new buyers by:

A qualified applicant may receive the following financial assistance: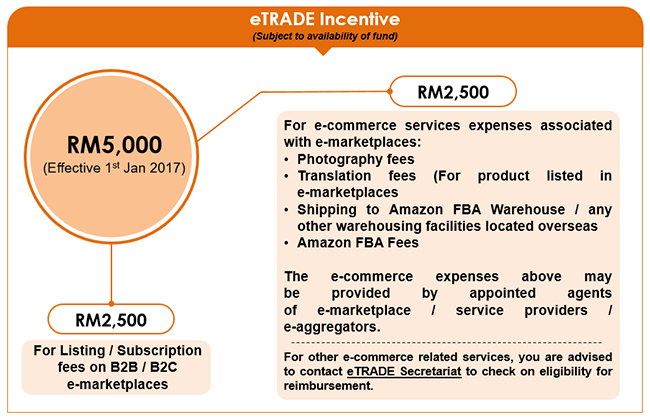 ---
eTRADE Success Stories