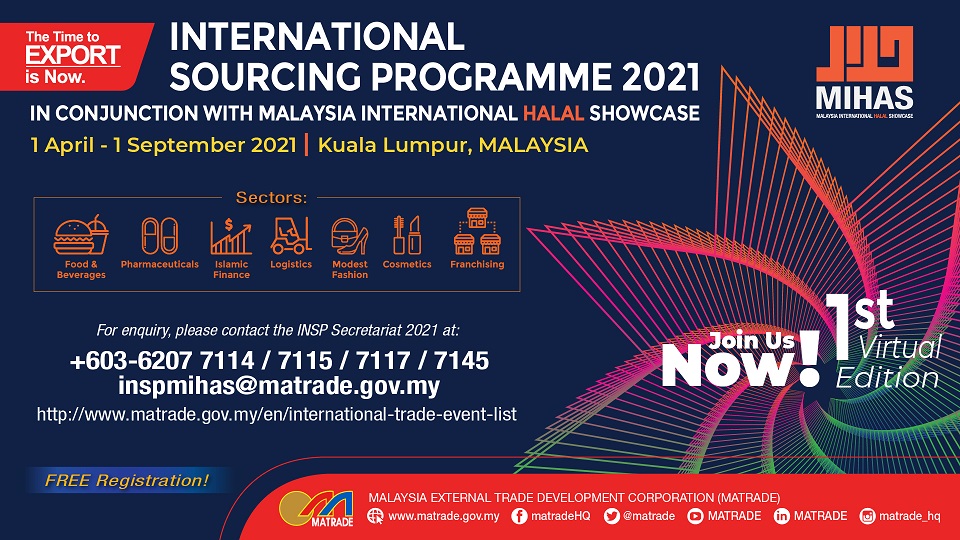 About INSP MIHAS 2021
MATRADE will once again organize our iconic International Sourcing Programme (INSP) in conjunction with the upcoming 17th edition of the Malaysia International Halal Showcase (MIHAS) 2021. In view of COVID-19 health safety concern, current digitalization trend and to provide ample business opportunities for Malaysian Halal products and services providers, INSP MIHAS 2021 will be held fully virtual for 5 months from 1st April to 1st September 2021, in tandem with the month of September when MIHAS 2021 will be held.
The first ever virtual INSP MIHAS 2021 will involves pre-arranged, one-to-one Business Meeting slots between Malaysian exporters and foreign buyers. MATRADE Kuala Lumpur and our 46 overseas offices worldwide will be selecting genuine importers globally to be matched with our Malaysian exporters for B2B meetings for the 5-months INSP MIHAS 2021. MATRADE projected around 400 international buyers will be matched with our Malaysian Halal exporters virtually.
ELIGIBLE SECTORS
The longer duration and virtual meeting arrangements represent the new normal during this challenging period as well as allowing bigger number of international buyers to participate and meet potential Malaysian Halal producers and suppliers from multiple sectors as follows:-
Halal Consumables (Agriculture Produce, Halal Certified Processed and Ready-to-Eat Products, Chocolate & Dairy Products, Confectionery, Poultry & Seafood Products, Beverages, Emulsifiers & Ingredients, Additives, Herbal Products);
Non-Food Products (Perfumery, Toiletries, Cosmetics, Beauty Salon Products);
Pharmaceuticals (Antioxidants, Fortified Food & Beverages, Health Supplements);
Islamic Investment, Banking & Takaful [Islamic Financial Institutions and Consultants, Islamic Banking, Islamic Unit Trust, Islamic Capital Markets, Takaful (Insurance) and Hibah (Wills)];
Halal Logistics Services;
Modest Fashion;
Franchising; and
Food Technology
REGISTER NOW!
MATRADE is pleased to invite Malaysian companies from the highlighted sectors to participate in INSP MIHAS 2021. Early registration will open more business meeting opportunities. Click here to register now!
We look forward to your participation!
INSP MIHAS 2021 Secretariat
Telephone: +603 6207 7252 / 7263 / 7105 / 7104 / 7103
Email: This email address is being protected from spambots. You need JavaScript enabled to view it.
REFERENCE