As part of MATRADE's initiative to improve our service delivery, Short Messaging Service (SMS) is now offered by MATRADE through the government's SMS gateway (www.mygovmobile.malaysia.gov.my). The SMS interaction will complement our other customer service platforms, such as the Trade Advisory Help Desk, e-mail service and our portal.
The SMS services currently available are :
Information on Demand
MATRADE HQ Address
MATRADE Regional Offices Address
MATRADE Overseas Offices Address
Document on Demand
MATRADE Worldwide Branch & Overseas Office Address
Malaysia's Trade Performance
Charges :
For each SMS you send, you will be charged 15 cents and for each response you received, you will be charged 20 cents.
How to use this service :
To use this service, follow the simple instructions below and send your request to 15888.
Information on Demand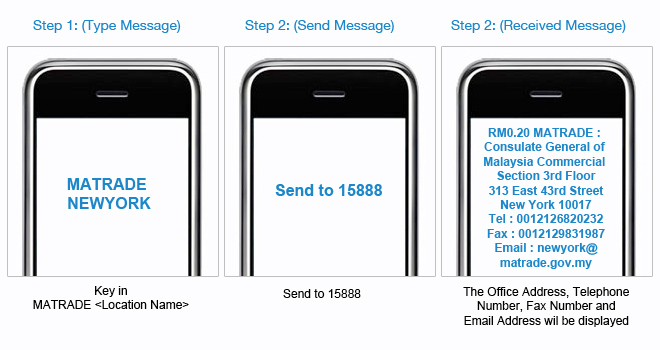 | | | |
| --- | --- | --- |
| Information on Demand | SMS Command | Examples |
| MATRADE HQ Address | MATRADE HQ | MATRADE HQ |
| MATRADE Regional Offices Address | MATRADE <Location Name> | MATRADE SABAH |
| MATRADE Overseas Offices Address | MATRADE <Location Name> | MATRADE NEWYORK |
Document on Demand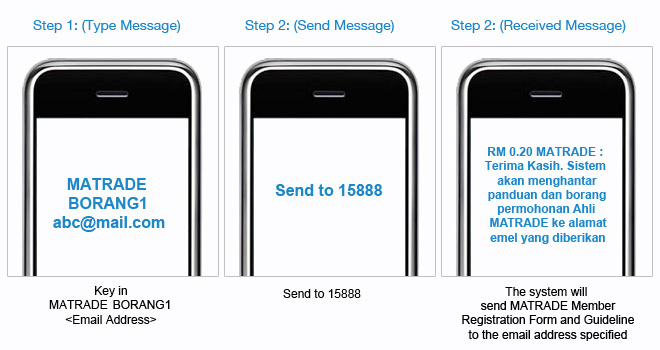 Document on Demand
SMS Command
Examples
MATRADE Worldwide Branch & Overseas Office Address
MATRADE ADDRESS [Email Address]
MATRADE ADDRESS

This email address is being protected from spambots. You need JavaScript enabled to view it.

Malaysia's Trade Performance
MATRADE STATS [Email Address]
MATRADE STATS

This email address is being protected from spambots. You need JavaScript enabled to view it.