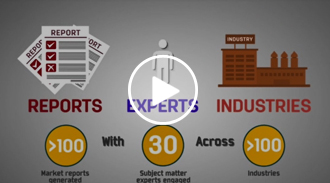 The Mid-Tier Companies Development Programme (MTCDP) was established in 2014 to help local mid-tier companies (MTCs) in Malaysia to accelerate their export growth and to strengthen their core business functions. Only 50 high-performing MTCs will be selected per year to participate in this 9-month programme. MTCs in Malaysia are defined as companies with annual revenues between RM50 million to RM500 million in the manufacturing sector and between RM20 million to RM500 million in other sectors.
Mid-Tier Companies (MTCs) and their contribution to Malaysia
MTCs represent a key driving force behind the Malaysian economy. There are approximately 10,000 MTCs in Malaysia, and despite being just 2% of all Malaysian firms, they collectively contribute ~40% of the country's GDP and employ over 16% of the workforce. To date MATRADE has assisted 275 MTCs in the programme and is committed to their continued success towards accelerating their export growth and expansion into new markets.
Participation Criteria
This is a programme for high-performing MTCs. As a result, MTCs must meet the following robust & stringent criteria to qualify for the programme: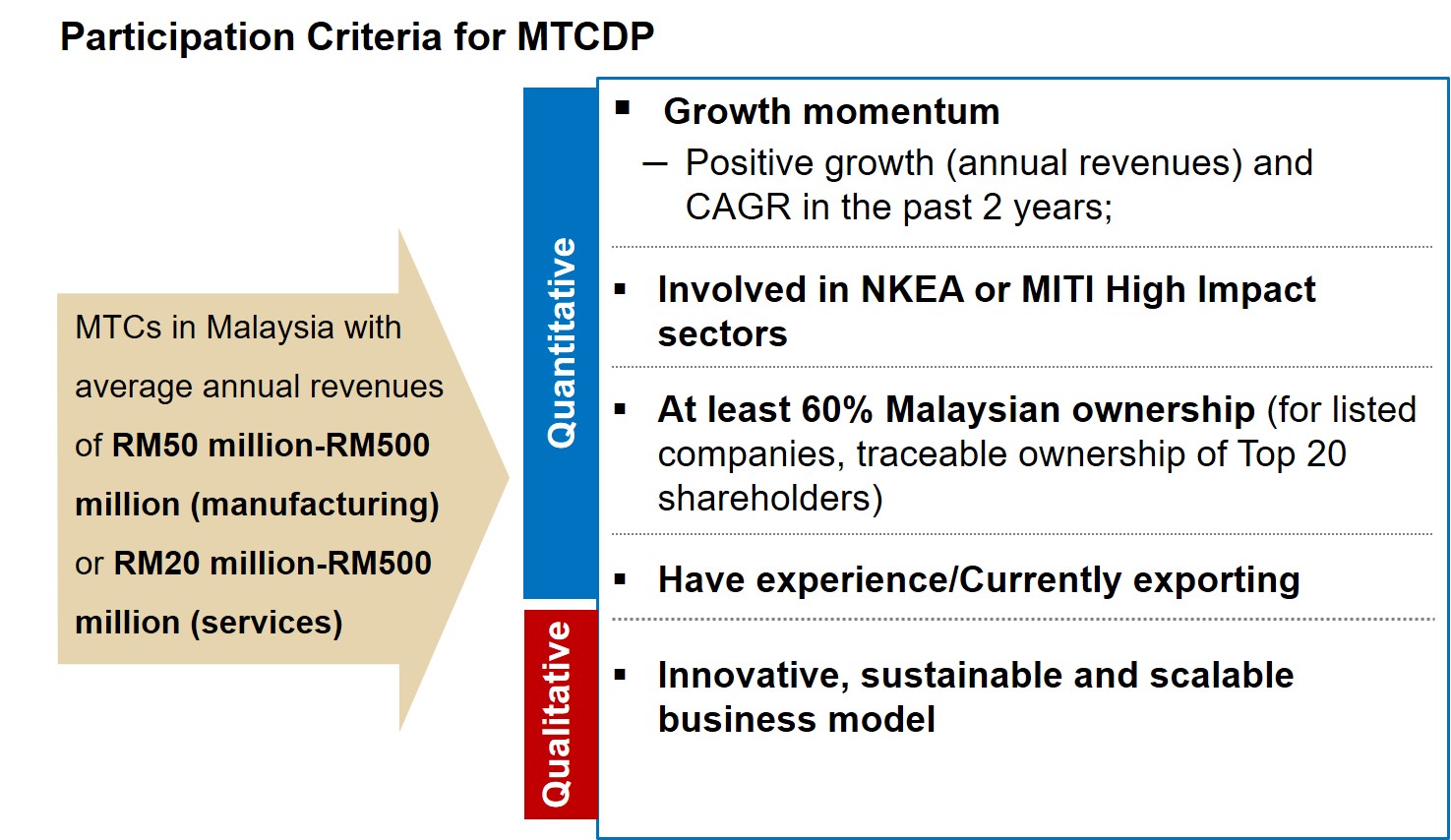 List of National Key Economic Areas (NKEA) or MITI High Impact Sectors:
Agriculture
Business and professional services
Chemical products
Construction
Education
Electrical and electronics
Financial services
Food and beverage
Forestry and paper
Healthcare services
Hospitality and tourism
Information and communications

Machinery and equipment
Medical devices
Metals
Oil and gas
Pharmaceuticals
Plantation (incl. palm oil and rubber)
Retail
Textiles and apparels
Transport equipment
Transportation and logistical services
Wholesale
Programme Benefits – Helping Mid-Tier Companies Expand Globally
The Government of Malaysia and MATRADE recognize the importance of Malaysia's MTCs and have established the MTCDP with the objective of helping MTCs grow their business internationally through a customized programme via these 4 activities:
1. Broaden MTCs' reach into high potential markets
Expand MTCs' business network (potential business partners, distributors, or customers) through country immersion visits, expert advice and MATRADE's international network
Help MTCs to identify and manage their distributors and business partners
2. Provide tailored business advice to MTCs
Advise MTCs on export challenges, supported by practical tools and guidance from international advisors and industry experts
Help MTCs to get relevant market or industry intelligence
3. Provide access to funding to MTCs
Facilitate introductions to local, international financial institutions or private investors as needed
4. Facilitate introductions to new technology
Assist MTCs in exploring new technologies and product innovations based on research, international trends and practical experience
Introduce MTCs to potential technology partners as needed
MATRADE's expectations from participating companies
MTCs participating in the programme must be:
Willing to bear ancillary expenses - e.g., travel expenses for any promotional events overseas. Consultation costs for 2014 participants will be borne entirely by MATRADE
Fully committed, with the CEO and senior management dedicating about 1 day/month to the programme over the course of 9 months
Willing to share company-specific information (with non-disclosure agreement in place), engage deeply on action plan, and adopt recommendations from MTC programme advisors to accelerate growth and increase your business performance
---
Mid-Tier Ramp-up Programme
The Mid-Tier Ramp-Up Programme is a new program started in 2016. It is actually a two-year extension programme for MTCs who have graduated from MTCDP. During the two years, MTCs will continue to receive customised assistance to further enhance their market access and export capabilities.
Other than serving as a conduit for continuing export support, the Mid-Tier Ramp-Up Programme also monitors and tracks the progress and development of MTCs. This helps MATRADE to tweak and re-evaluate the effectiveness of support assistance rendered. Former graduates of MTCDP are also automatically enrolled as members of an alumni, called the CEO Club. The CEO Club is an informal avenue for MTCs to network, exchange ideas and share possible solutions on common issues. The first CEO Club meeting was held on May 31, 2016.
The Participants
Benefits of being in the programme:
Mid-Tier Ramp-Up Programme will help MTCs to:
Secure effective distribution channels in the marketplace;
Intensify market deepening in high potential markets (e.g. through strategic partnerships, acquisition of companies or new business start-ups); and
Collectively penetrate new markets through the pooling and sharing of costs and resources, which can mutually elevate and improve visibility of Malaysian businesses in foreign markets.
Who can apply?
As it is an extension of the MTCDP, only graduates of MTCDP are eligible to apply.
---
For further information about the programme or if you are interested in applying, please contact us at:
Mid-Tier Companies Development Unit
15th Floor (East Wing), Menara MATRADE,
Jalan Sultan Haji Ahmad Shah,
50480 Kuala Lumpur
Email: This email address is being protected from spambots. You need JavaScript enabled to view it.