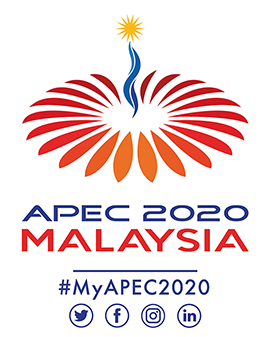 About APEC
APEC is a Regional Economic Forum established in 1989 to leverage on the growing interdependence of the Asia - Pacific. Malaysia was one of the founding members of APEC. 30 years after its inception, the region's economy grew at an average of 3.7 per cent annually from USD23.5 trillion in 1990 to USD66.2 trillion in 2018.
The 21 APEC Member Economies rotate annually to host and chair APEC Meetings. After more than two decades, year 2020 sees Malaysia as host and chair to APEC meetings for the second time.
#MyAPEC2020 Exhibition
In conjunction with Malaysia as the host of Asia-Pacific Economic Cooperation (APEC), Malaysia External Trade Development Corporation (MATRADE) will be organising #MyAPEC2020 Exhibition which is in the form of a virtual exhibition and will be enhanced to include online pitching, virtual one-to-one business meeting (eBizMatch) and webinar.
The exhibition will feature Malaysian and APEC companies from 8 targeted sectors:
Technology
Innovative F&B and Agrofood
Green Tech & Energy
Healthcare
Professional and Business Services
Transport and Logistics
Lifestyle
Building Materials
These programmes will increase business opportunities to the exhibitors as a whole. This exhibition can be accessed worldwide by clicking on the link below,
For more information on #MyAPEC2020 Exhibition, please contact This email address is being protected from spambots. You need JavaScript enabled to view it..